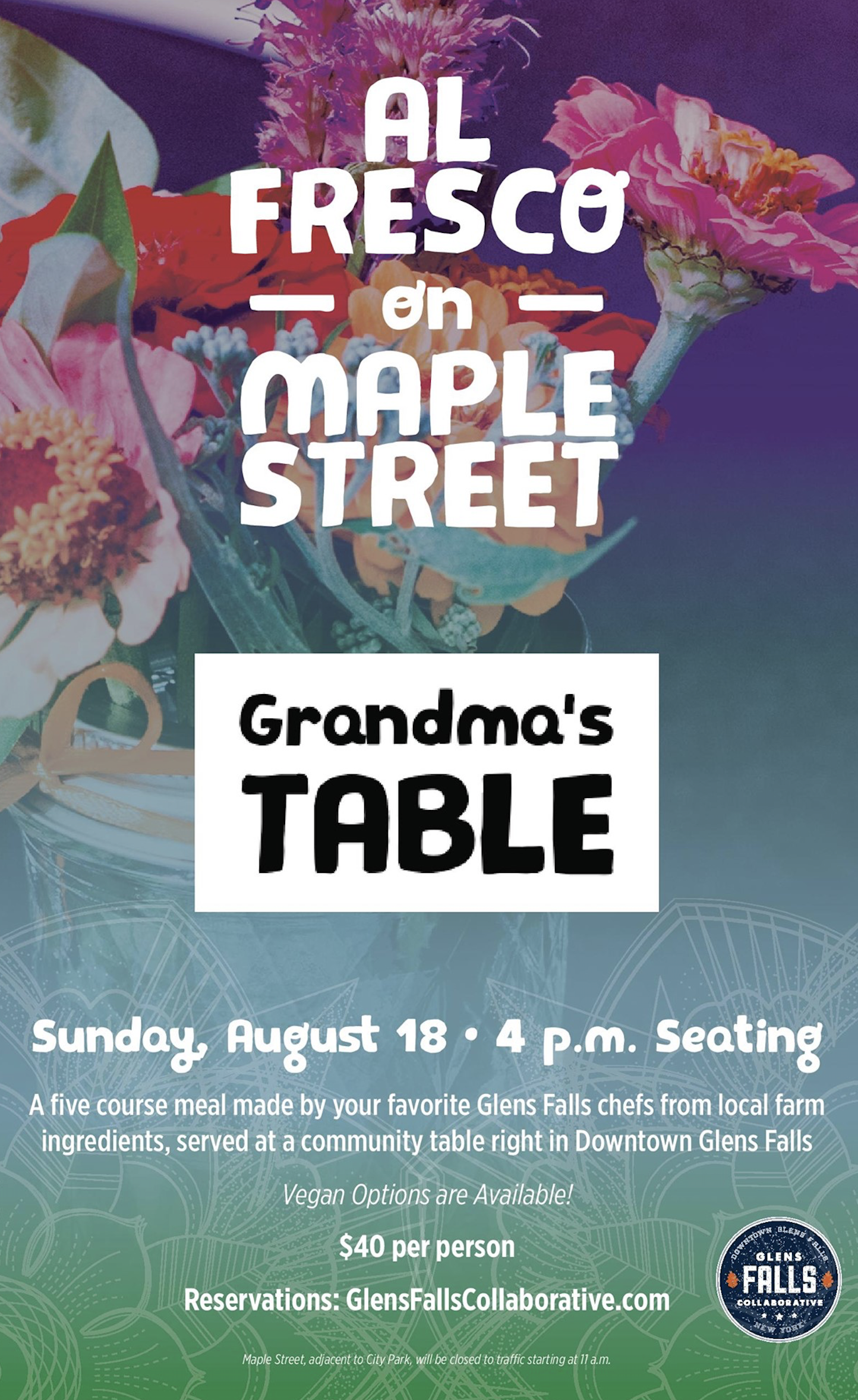 12 Aug

Gather Around Grandma's Table
The Glens Falls Collaborative was created in 2012 by a group of dedicated merchants who wanted to cross-promote and increase the business flowing to Downtown Glens Falls. Back when the thing started, Trampoline headed it up and set forth some gorgeous branding they still use today. If memory serves, it was them, along with Scoville Jewelers, Fountain Square Outfitters, and Sterling & Co., that first banded together to start a brand for Glens Falls. Rich Cirino was there right at the start, too, and today is the Collaborative's President.
The Collaborative has expanded since those early days to take on major Downtown events, create an incredible map with a large distribution, joint advertising to increase Glens Falls tourism, quarterly mixers, and to umbrella over the Arts District of Glens Falls, which Kate co-founded back when she was working at The Shirt Factory. The Collaborative now includes restaurants, arts and nonprofit organizations, many different service providers and other area businesses.
They are the wizards behind the curtain, bringing our community:
They have been one of Advokate's biggest clients since 2015. In addition to handling event promotion, we manage the Downtown Glens Falls Facebook page. Funny enough, Kate started that page back in 2012, just thinking that there just should be one, and handed it over to the Collaborative to operate for a number of years… until they hired us to run it! We have been taking photos of Downtown events for longer than there has been a Collaborative!
We also started an Instagram account for the Collaborative just this spring, and have almost 1,100 followers. We also manage the Collaborative's website, along with anything else they may need, too. We branded Wing Fest and Grandma's Table, and have coordinated design for all the events, plus special ads promoting Glens Falls. We attend their monthly meetings and believe strongly in what they are doing for our community. Neighboring communities are taking note and are starting their own Collaboratives!
Glens Falls has invented something really special here. We're doing it right.
We work closely with Amy Collins, the City's Tourism Director (and chief bottle washer, she likes to joke).
We told her we were writing a blog post and wanted to quote her. She wrote, "The Collaborative is the glue that provided a vibrant volunteer business alliance that really gets it done!  The coordination and cooperation that exists today helps us to deliver our best. Kate's work has been instrumental in spreading the word, capture the right picture or designing and organize the appropriate event marketing that brings people to Glens Falls."
Their next event is Grandma's Table, taking place August 18th!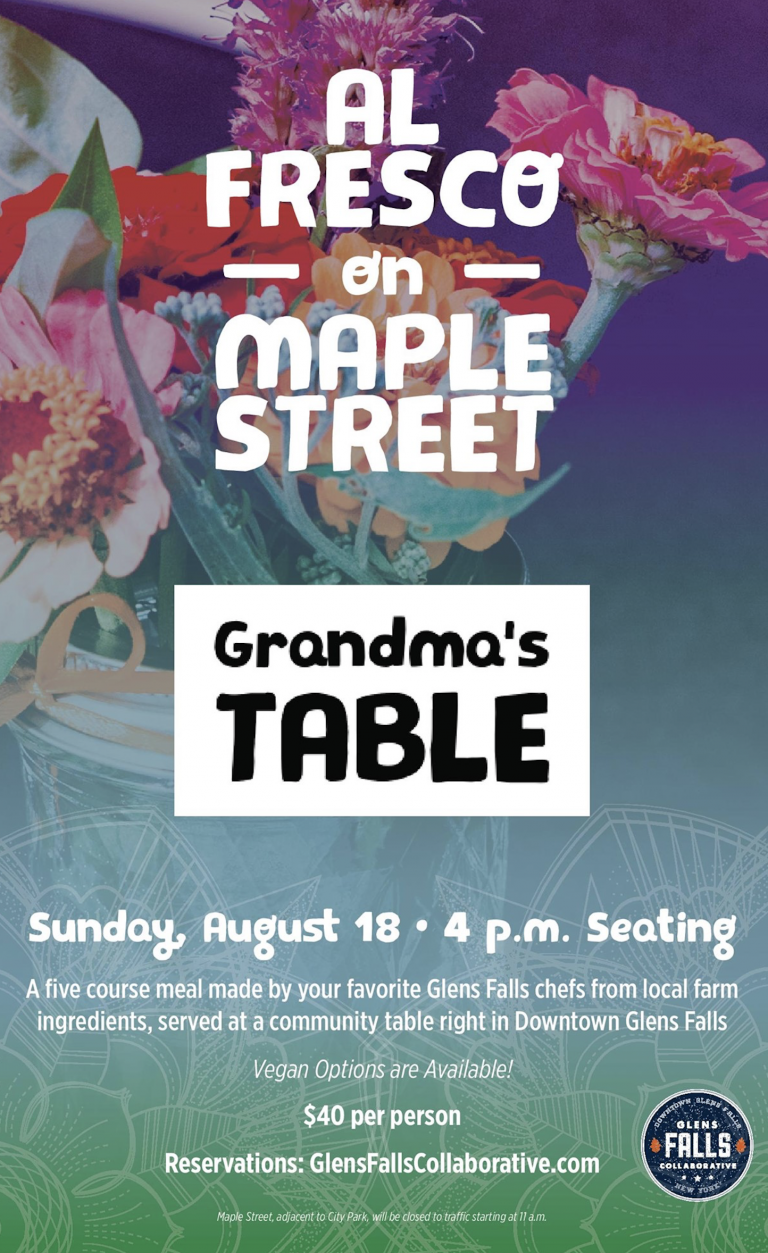 Enjoy a family-style, al fresco dinner in beautiful Downtown Glens Falls with fresh, locally grown ingredients and expert preparation. Your friends and neighbors will be your servers. Grandma's Table is a wonderful afternoon of food and fellowship.
Local Restaurants including Morgan and Co, Farmacy, Juicin Jar, Lake George Olive Oil Co, and Roxy Cakes will provide a 5-course meal.
Seating at 4PM on Maple Street, between the Queensbury Hotel and City Park.
Tickets are $40/person. Vegan Options available when requested.
"Grandma's Table feels like something only found in a dream- an evening where the community sits together at a long table and shares a meal created by our local chefs and made with ingredients from our local farms. We work hard to make everything beautiful and this year we have added some extra beauty to share with our guests!"
– Candice Frye (LARAC, Glens Falls Collaborative)
Tickets to Grandma's Table can be purchased by clicking here: Get tickets!