Advokate, LLC
Tooting horns since 2010
Advokate empowers startups, small businesses, nonprofits and artists with the marketing tools they need to be successful.
Our clients increase their sales, web traffic, event attendance and public awareness with our help.
We offer web design, graphic design and branding, marketing, consultation, PR and more.
Advokate was named Independent Business of the Year by the Adirondack Regional Chamber of Commerce in 2013, and has been nominated for this award three different times.
Founded in October 2010 by art activist Kate E. Austin, Advokate is a family-run, woman-owned business operating out of Upstate New York.
Our client list includes the City of Glens Falls, EDC Warren County, the Glens Falls Collaborative, the Arts District of Glens Falls, The Chronicle Newspaper, Greater Glens Falls Transit, Adirondack Audio and Video, Bell House Inn, Charles R. Wood Theater, World Awareness Children's Museum, Southern Adirondack Independent Living, LARAC, NorthCountryARTS, and hundreds of others.
Kate E. Austin
Founder, Owner & CEO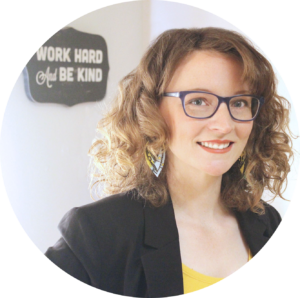 Born and raised in Killington, Vermont, Kate resides in Glens Falls, New York, with her dog Sasha and her three kiddos Henry, Daniel and Elizabeth.
Kate is known in Glens Falls for her creative advocacy. She's co-founder and administrator of the Arts District of Glens Falls and was interim director of the World Awareness Children's Museum, manager of The Shirt Factory Arts & Healing Center, president of NorthCountryARTS, arts calendar editor for the Glens Falls Chronicle, and board member of Art in the Public Eye. She was one of the Post-Star's 20 under 40 in 2019.
Kate has delivered her sought-after Marketing for the 21st Century talk at SUNY Adirondack numerous times, and gave her Developing Your Brand seminar for the Small Business Development Center at the Albany-Colonie Chamber of Commerce, for the Adirondack Business Development Partnership at SUNY Adirondack's Regional Higher Education Center, and at the Shirt Factory's LocalFest. Kate was also part of a panel on Branding for Nonprofits at LARAC, and has offered workshops on WordPress and web design at LARAC in years past.
She studied art at Hartwick College and earned her Bachelor's Degree in Visual Art from Empire State College.
Kate was hired by the Regional Alliance for a Creative Economy as an Arts Advocate in 2015, and was invited to participate in the Creative Economy in the Rural Northeast roundtable discussion at the Slate Valley Museum, and the Freelancers/Artists/Small Business Needs Strategic Recommendations Committee to the Capital Region Creative Economy Project. For many years she wrote a biweekly column called Family Time for them, and had a blog by the same name.
Angie Cieply
Graphic Designer
Angie is a recent graduate of the New Media program at SUNY Adirondack and is very grateful for the opportunity to be able to have a creative job like Advokate!
She loves to illustrate and create and bring pieces to life for clients. Angie has been drawing all her life and is always happy to learn and grow in her craft.
She currently resides with her husband, Brian, and two cute kitties Cheerio and Daisy. She spends her time on nature walks, learning new recipes, and living as simply and slowly as possible.
Cam Cardinale
Marketing & Communications Director
Cam is a data-driven digital marketer and photographer who loves watching small businesses soar on social! He is excited to be tooting horns for Advokate clients!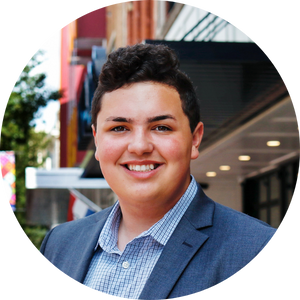 He loves to create meaningful content that engages, creates a sense of community, and educates the targeted audience. Cam's photography magi
c enhances social content and makes social feeds POP!
Currently residing in the Glens Falls Region, he enjoys spending time downtown and supporting local businesses! Cam has a passion for non-profits and also serves as the operations associate at the Charles R. Wood Theater. He also enjoys spending time with his German shepherd puppy, Hudson.
Candice Frye
Marketing & Communications Associate
Candice has ten years of experience working in the arts and nonprofit business sector. She has a passion for working with nonprofits, community collaborations, and Glens Falls. 
After being a part of the LARAC team in Glens Falls for more than ten years, Candice recently left her position as Executive Director to pursue her new independent adventure managing short term rental properties in the Adirondack and Saratoga area. She has also been an instrumental piece of the Arts District of Glens Falls and is Vice President of the Glens Falls Collaborative, and has been responsible for numerous festivals in Downtown Glens Falls. She is a frequent volunteer.