03 Apr

Working Remotely & Tips From Kathy Porcell of Elevation Pilates!

Times are changing rapidly and small businesses everywhere are adapting to best serve their clients. Advokate is right there with you! 

We are still open for business but the office has moved into our homes and we are working remotely. Juggling kids, dogs, work, school and life, in general, is a non-stop balancing act. We have found comfort and camaraderie in our Glens Falls community with some of our clients leading the charge as we all navigate our "new normal."

42 Degrees had an online store stocked and ready to go in record time.

Juicin Jar has e-gift cards available for purchase so you can be first in line when they re-open and we are working on the takeout menu for Birch Bark Eatery as we speak!.

O'Brien Insurance is available for your insurance needs via phone and email and is spreading some goodwill and lifting spirits through the O'Brien's Angels Facebook Group. 

We launched a temporary website for the Arts District of Glens Falls showcasing what you can do to interact with our local arts community, such as The Hyde Collection's fun, interactive art games on their Facebook page and the Charles R. Wood Theater's free downloadable coloring book pages.

Yoga Kayla and Elevation Pilates have taken their classes online. 

We had a chance to talk with Elevation Pilates owner, Kathy Porcell, about how she and her clients are adjusting.
Kathy at ChalkFest!
Advokate: How have you been adjusting to working remotely?
Kathy: This has been a blessing in disguise for me. It made me dig deeper into myself in order to keep our Elevation Pilates family connected. Some people will always look at the internet as something they just don't want to deal with. I was one of those people. Except for the daily tasks, I don't want to engage. This is my sole source of income, so… giddy up!
Advokate: How are you holding classes from home?
Kathy: When we closed the studio I moved some apparatus to my home. Next, I immediately set up the Zoom platform and it was learn as I go. All my first week's classes were free. Many clients jumped right on and others have been continually streaming in bit by bit! The first clients to get hold of me were from Calgary and Anchorage. I have also picked up some new clients.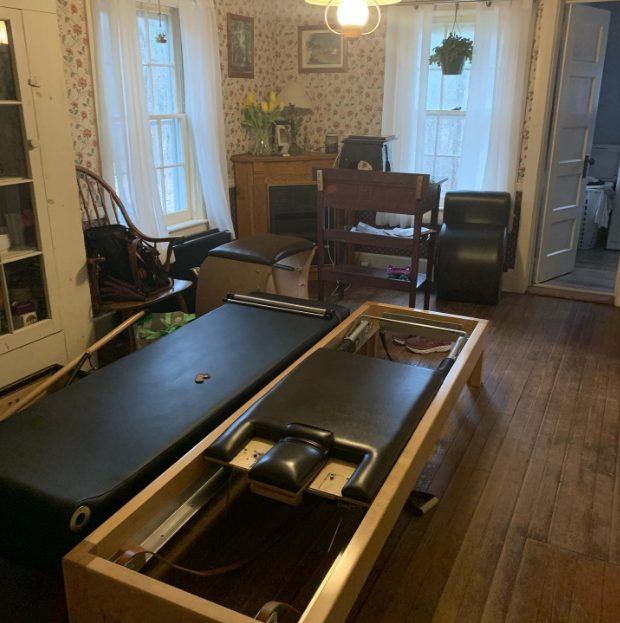 Kathy's apparatus in her home!
Advokate: What types of exercises are you offering?
Kathy: We have authentic Pilates Mat classes. We use hand weights, resistance bands and the Pilates Magic Circle for those who have them. Soup cans are a great substitution for this. There is also a Standing Mat series and a squat and lunge series.
Kathy's tips for working remotely:
Live streaming is a lot of work. It actually takes a lot of energy to teach online that is different from the studio. You need lighting and a defined space, my dining room. Table and chairs gone, enter Pilates Studio.
There is so much useful information for being successful at this online. The Zoom platform has great tutorials and suits my needs. I keep my classes small, my prices low. It's important for me to teach the bodies in front of me, just like in the studio. I'm sure there is quite a bit of money to be made from this, my goal is connectivity. Pilates Mat work is hard, and we will all emerge from this quarantine so much stronger. I'm seeing it already!
Kathy and her clients on Zoom!
Thank you so much Kathy!
As you can see, our small businesses are doing all they can to stay afloat and serve their clients. Adaptation is key and these folks are doing so well during these ever-changing times. We are all doing our part to keep our community safe and we will be back out there before we know it!
Need to chat: advokate.net/date