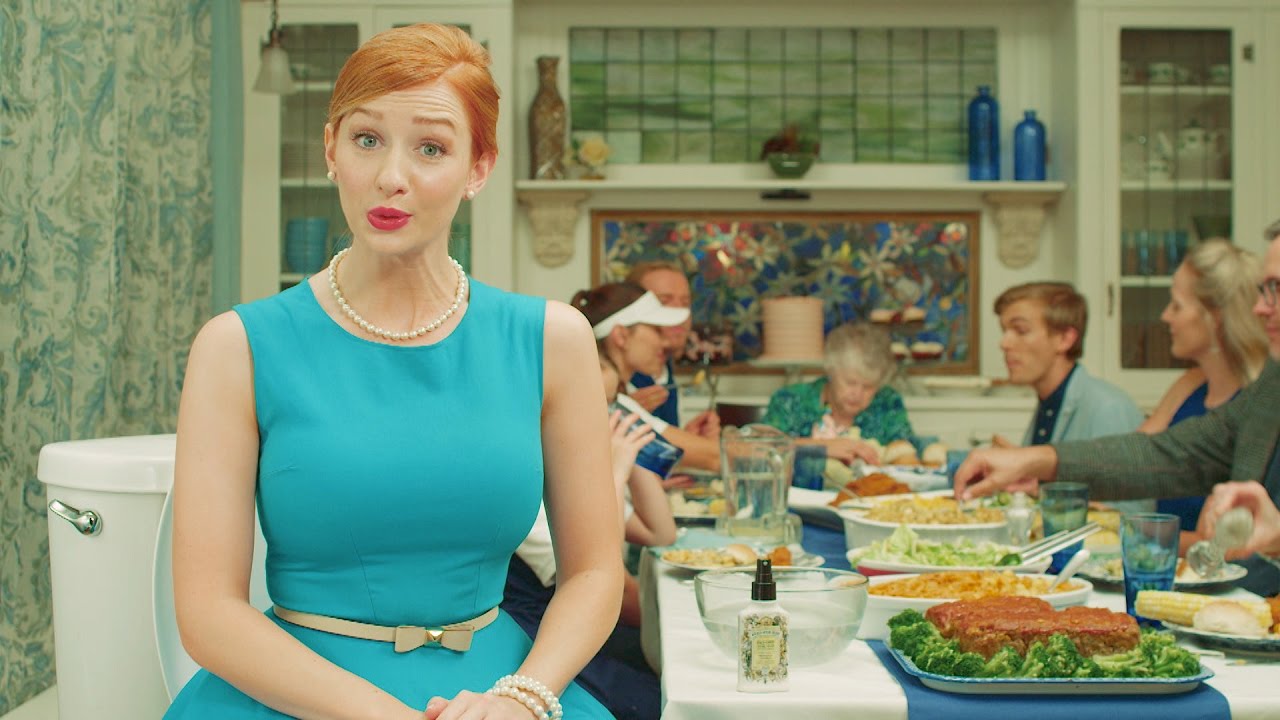 12 Jun

Video Marketing Campaigns
"Who are you calling a Cootie Queen? You Lint Licker!"
The Old Spice guy, Budweiser's Clydesdales, talking M&Ms and Geico cavemen. We've all seen those television ads that become iconic. Have you ever stopped to think about why they stick with people over the torrent of ads out there? We are going to breakdown some of Kate and Caitlin's favorite video ad campaigns and why they work.
1. Poo-Pourri (Kate & Caitlin's pick)
Poo-Pourri is a company that devises and sells fragrant sprays for toilets and their ads are amazing. They have a series of videos that play out like short films that run as pre-roll ads on Youtube. We are those people who wait for the "skip ad" option to pop-up and click it lightning fast. However, we will sit through and watch a full 4 and a half minute long Poo-Pourri ad.
This video is effective because of all the things it does right to hit it's tone perfectly. The color palette is stunning. Everything is eye-catching and has a hint of a retro-kitsch feel. These aesthetic choices play to both the polished, professional look of the ad and the outrageous humor within it. The actors all play it as they are in on the joke while managing to stay grounded in the scene. This is where springing for professional actors could make all the difference.
2. K-Mart's Ship My Pants (Kate's pick)
This campaign features a clever play on words that catches the viewer's attention immediately. Does it air on the silly side? Yes. Is it memorable? Definitely. Another aspect of these ads that make them successful is the actors they chose look like everyday people you would see shopping at K-Mart. When we see ads for a brand we use in daily life we want to see ourselves, friends and neighbors represented. polished ads have their place but personally, we'd rather be sold to in a fun way by people familiar to us.
We have all been those people wandering the aisles of K-Mart. This ad appeals to the online shopper while still keeping the brick-and-mortar customers in the loop.
3. Farmer's Insurance Hall of Claims (Caitlin's Pick)
This is a great example of a series that can last forever. It's fun to follow J.K. Simmons as he reports back to us about the variety of wacky claims they've seen at Farmers. It's fun to see what they will come up with next. One thing that sets this ad apart from other insurance agencies' is that they don't talk to us about how cheap and fast they are. While watching we learn about the variety of things their company can fix but we leave feeling entertained and not sold to.
These videos also have a meme feel to them which makes people want to share them. "Did you see the one with the_____?"
4. O'Brien Insurance Agency: Testimonial Series (Kate & Caitlin's pick)
Personal content always resonates. The Insurance experts at O'Brien Insurance Agency brought Advokate aboard to create concise, shareable videos that highlight why they do what they do. This on-going series touches on client testimonials, as well as personal insights from John O'Brien their President and CCO (Chief Concerned Officer). This series aims to highlight real people in their real environments speaking their truths. Their personalities and emotional connections really shine through in this more simple format.
Community cultivation is a great by-product of producing personal content that reflects your why. This will come naturally to your authentic content.
Things to keep in mind when crafting an effective video ad campaign:
1. Grab attention in the first few seconds.
The internet is flooded with videos so you have to build an effective strategy to cut through the noise.  Use the first 3 seconds to draw your audience in with something meaningful and eye-catching.
2. Keep viewers invested with an emotional core.
Your ad should offer something valuable, otherwise, viewers won't waste their time. Appeal to their emotions and be entertaining, inspiring or educational.
3. Tailor messaging and imagery specific to the audience.
One of the key benefits of video ads is how carefully you can target them. Know your messaging and tone but don't be afraid to step outside the box and try something new.
3. Include a clear Call-to-Action.
Make it clear what you want your viewers to do after watching your ad, and easy for them to do it. Encourage engagement!
5. Keep the length appropriate to the content.
Don't get to bogged down with length especially if making an ad for the internet and/or social. Take as long as you need to communicate your message but no longer. If things are getting too wordy maybe make them a series.
Interested in creating your own video ad campaign? Get in touch! www.advokate.net/date