14 Sep

Does My Website Need A Redesign

Websites are a lot like vehicles. If you don't maintain them on a regular basis, things can get wonky and leave you in the lurch. Don't worry! We've compiled some of our top tips on keeping your website up-to-date.

Web design standards and trends are always changing. While you should be clicking around your site every so often to make sure there are no broken links, and making sure that your hours, and social are current, and ADA compliance is being met, etc., we recommend taking a good hard look at your website every 3 years.

Find a few sites that you really like and see how yours compares. Maybe you'll just need a little refresh such as switching out photos or changing color schemes, but you may decide that you want or need a total redesign.
Refresh or Redesign?
Refresh if your site is looking a bit stale, but still works all right. A refresh may be updating your images, logo, reworking some text, or updating anything that does not currently reflect your brand and replacing it with something new. Maybe you make some small changes to the color scheme or use a more on-trend font. This means the structure of your site is still the same, but you've changed up some of the visual components. If we're making the comparison to cars, consider this a paint job or a tune-up.
Redesign if your website has become inaccurate, not mobile-friendly, broken, no longer represents your brand, or is more than 3 years old. This means it's time to get a new website. To make the comparison to cars, this is when you trade it in for a whole new car, which is exciting and something worth announcing! Maybe it's time to add eCommerce, or go from a starter website to a professional-level one. It's time to get excited about all of the new technology at our fingertips and to think about how people are using the web these days and get yourself something sleek, clean, and new!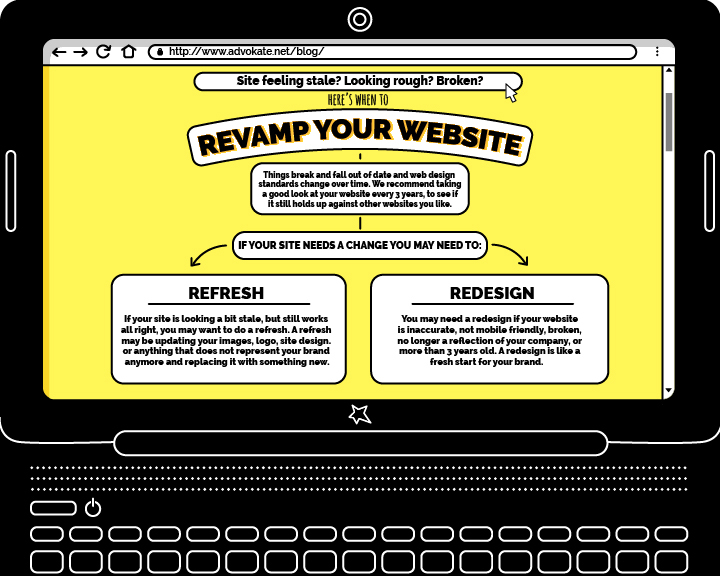 A lot of factors go into making this decision. Maybe at first you just needed something to get your business on the web and now you have more resources and want to invest in your SEO (Search Engine Optimization), additional features, or higher quality design. It's totally okay to refresh or redesign your website at any time! Heck, if you're bored and uninspired with your site, odds are — so are your clients.
Think of your website as your company's digital waiting room. Show off your best self to current potential clients by greeting them with a user-friendly, beautiful website that showcases what you do and who you are!
The internet is a rapidly changing landscape and it's important to keep up. This will not only keep your best foot forward, but it will instill trust in the minds of your potential clients. If they go to call you and you don't answer because your hours or phone number out of date, or they try and click a broken link to your portfolio, that's an easy way to give business to your competitor. Folks make decisions quickly, and you want to meet them at the door and get them booking an appointment, opening their wallet, calling you or walking in your door as quickly as possible.
If websites and the internet aren't your thing, we can help!
We offer initial consultations for $25. Sometimes that's all you need, and we're happy to point you in the right direction for your budget!
Advokate is not just a place to buy a widget. We aren't here to just sell you a thing and let you figure it out from there. We are your teammates and we are always here for you when you need us.
Let's chat! Advokate.net/date