07 Apr

Where all the lights are bright, Downtown

For more than a year, I've been hunting for a little spot in Downtown Glens Falls to call my very own.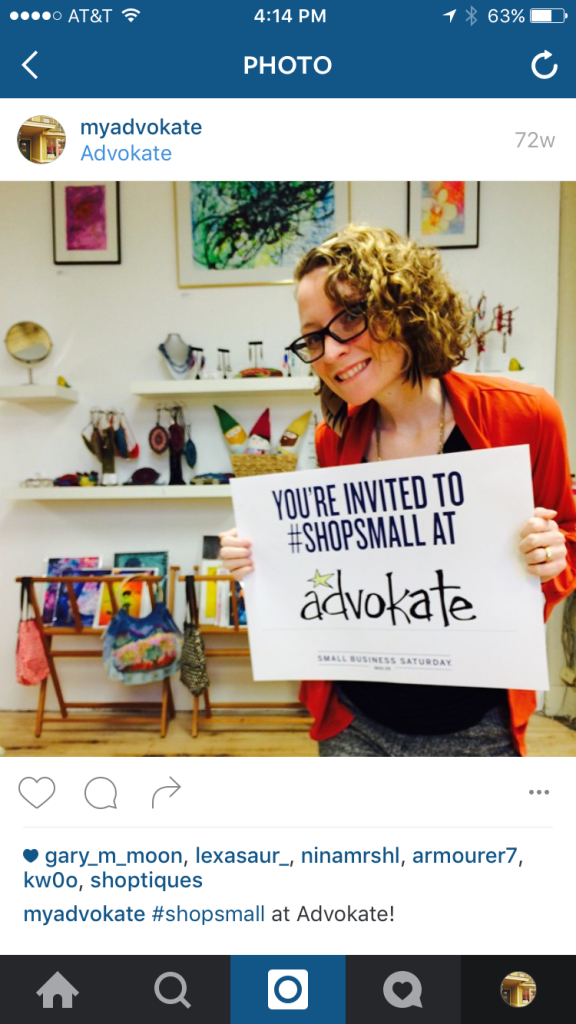 I conducted an extensive search, striking conversations with building owners all around the city, even dreaming of buying my own building. It's gotten to be so that when an Advokate client says they're thinking of opening up Downtown, I can tell them what's available, and what word on the street is on this or that landlord, which has proved handy in matchmaking.
Originally, I dreamed of moving the Advokate Boutique Downtown. I wanted to be part of the retail flora, adding one more reason to shop local. But conversations with my SCORE advisors brought reality into play: The core of Advokate — the marketing consultation, web design, branding, graphic design and PR — is really what's profitable. If I'm being a savvy business owner, I can't waste time playing, however fun it is. And I have to make decisions based on giving Advokate its best chance. So I let that go, for now.
(But I have inklings of a pop-up revival for the holidays! Stay tuned.)
I closed up shop at The Shirt Factory last summer and have been working from my home office since. If I'm being honest, it was embarrassing to move back home. I worried that I'd be forgotten about. And it was mournful, taking down the custom-made curtains, giving my artisans their beautiful work back, and bringing the big old computer back home. I want Advokate to be taken seriously. It seems like when you work from home, it's something on the side. And we're not — we're a main dish operation, here. Dismantling what I had so lovingly built broke my damn heart. I've felt beaten. And quiet.
But it's also comfortable. It's nice keeping the overhead low, and it's nice nursing my new son Daniel on demand (we have sitters come to the house), and it's nice not worrying about packing a lunch and kicking off my shoes when I feel like it. It's nice to hop on the computer and finish up a job after the kids are in bed, and it's nice to bang something out on the weekend when there's a second of down time.It's nice to be able to buckle down with no interruptions or neighborhood drama, and I've been very productive, increasing our business so much I had a painful surprise come tax time! A home office is lovely. I've gotten a lot done here in this bright little room.
I kept an eye on opportunity, though. When I saw that Milk & Honey had some space for rent, I did my due diligence and went to check it out.
And when I walked in this darling little room upstairs, I literally swooned. My knees felt weak and despite my best intentions, I fell head-over-heels in love. The hardwood floor. The brick chimney. The vaulted ceiling. The beautiful light.
And here it is, on Exchange Street, where my husband Cory and I met for the first time. Right across from Rock Hill, which has been my office-away-from-home since Advokate's inception.
I met most of my friends on Exchange Street, either at Rock Hill's open mic, or at Wallabee's some Thursday or other. I literally dream of Exchange Street in an alterna-Glens Falls where it's paved with cobblestones and has outdoor seating. Exchange Street has always caught me when I stumbled — I picked up Sundays bartending at Wallabee's when my hours at the Chronicle were cut.
Ann Parrish is a lovely person. And, you guys. The building is YELLOW. I see it as the window that opened when the other door closed. It's so perfect.
So, friends — Advokate's got a downtown office now!
As you see from the photos, we're getting it settled, slowly. We'll be using it as a meeting space for now, since I'm not quite ready to give up doing computer work from the home office with Daniel close at hand. We'll have a ribbon cutting in May. In the fall, we'll move in full time.
Want to meet in the new office? Give me a ring and I'll pull up a chair for you!