29 May

Video Marketing Ideas for Artists
Enjoy this guest post by Shea Lynch, web video producer. Shea lives in Glens Falls, New York, and works with small to mid-sized businesses on online video content. Shea has a background in content marketing and broadcast television coupled with documentary filmmaking. Visit his website at www.lynchcreate.com.
Advokate partners with Shea, who specializes in search engine optimized video, and with other trusted videographers to offer our clients video services that can be integrated in their websites and shared on social media.
The Rise of Kevin Hill: Takeaways for Artists About Online Video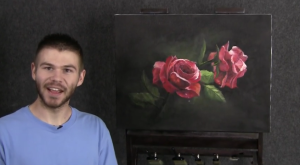 Kevin Hill is the Bob Ross of Arkansas Educational Television Network and he's taking hobbyists by storm. He's an artist that has mastered online video and now broadcast television. My fiancé follows many painting tutorials on YouTube and stumbled upon Kevin Hill a couple years ago. Then, Kevin was a mere speck in the blogosphere of how-to-do anythings. Now, Kevin sells paintings online along with DVDs, e-packets and even paint brushes.
Kevin makes money on the authority he has built for his target audience – people picking up painting as a hobby.
Create Buyer Relationships Online By Increasing Product Value
The videos Kevin Hill posted on his YouTube channel were a way for him to offer product value. He's building his brand, Paint with Kevin, by offering free content that attracts his target audience online through video.
Having video on your website can really create lasting buyer relationships. You don't necessarily have to create tutorials online to use online video effectively. Here are some additional ideas to get you started:
Offer a few videos centered around the environments you focus on in your work
Document personal stories of the subjects of your pieces
Show behind the scenes of the creative process of one of your works
If you show at any popular regional festivals, highlight your work and the festival in a video
What added value can you include on your website that will attract your audience? Whether it's your expertise or your personal story that sells your work, use online video to consistently offer product value.
Contact Advokate to brainstorm more ideas about how videography can spread the word about your artwork or business!