11 May

Some big brags: eCommerce & Municipal websites!

Well, Advokate is rolling along.

Last week we announced that the Austin-Avon family is expecting! Baby Two is due on November 8, and we've got a plan in place to keep Advokate serving you. It was strategic that Cory joined us when he did, and he'll be taking the reins during Kate's maternity leave and working with a team of subcontractors that we are assembling and testing right now to make sure that we can continue to give you everything you need.

Today we learned that Nina Marshall, former Manager of the Advokate Boutique, is committing to her schoolwork and will no longer be employed with us.

Meanwhile, Vice President Cory Austin-Avon has filed for Advokate, LLC, bringing us to the next level. And we had a very successful Open House last weekend, with a bunch of Boutique sales. Things are going well!

We've got some big brags to show you: Recent websites we are proud of!
Town of Lake George
The first one is the Town of Lake George's website at www.lakegeorgetown.org. This is our first municipal website, and it was a really big project, with a website that is more than 300 MB and nearly 100 pages. We integrated a calendar, multiple department pages, uploaded all the meeting minutes and a blog-style format for Town News. We're really proud of this accomplishment, and Town Comptroller Wendy Baird and Town Councilwoman Marisa Muratori were fantastic to work with.
Sparkle Candle Company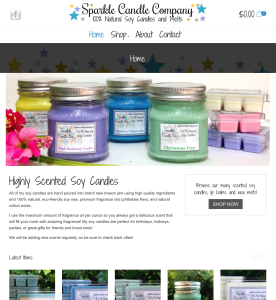 The second one is a brand-new eCommerce website for Sparkle Candle Company, which makes all-natural soy candles that have a really strong fragrance! We co-designed the new logo and labels with business owner Tammy Hall, and Advokate designed this new website, which we are hoping will be a big step forward for this Glens Falls based candle business that has done well on Etsy so far. With the recent changes that Etsy is making, it seems to make sense to have a backup plan and sell on a self-hosted website as well. These are fantastic candles, and pick-up or delivery is free in Glens Falls! These great candles are also for sale at The Shirt Factory's first floor shop HodgePodge. She also makes lip balm that is definitely the best I've ever tried.
If you need eCommerce or a municipal website done, Advokate can handle it!
Give us a call: (518) 353-2121 or drop a line.