09 Apr

Come to our open house!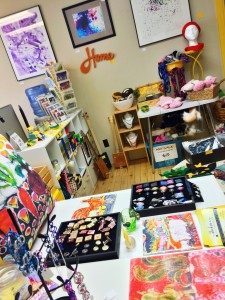 We are having an open house! Join us on Saturday, May 2, from 10 a.m. to 5 p.m. at The Advokate Boutique, a shop of locally handmade gifts. The event is in conjunction with The Shirt Factory Artist's Association's "Spring for ART" Open House which takes place during the same date and time.
The open house features gifts for Mother's Day, including unique jewelry, fine art prints, funky upcycled wind chimes, purses, accessories, soy candles, cutting boards, home décor and more, and a 15% off sale on winter items such as hats, scarves and knit socks to make room for fresh spring and summer inventory.
While supplies last, The Advokate Boutique will offer a free flower with every purchase. "We wanted to do something to celebrate springtime and mothers," says Kate Austin-Avon, founder of Advokate. "One of my newest clients is Days Remembered Floral Design in Downtown Glens Falls, so I thought I'd call Ellen Daubenschmidt up and see what we could think up together."
Advokate has been empowering artists, small businesses, startups and nonprofits with marketing tools such as web design, logos, branding, postcard and business card design, press releases, marketing meetings and more since 2010, and was awarded Independent Business of the Year in 2013 by the Adirondack Regional Chamber of Commerce. The Advokate Boutique (and the Advokate marketing and design office) is located in Suite 201a, on the second floor of The Shirt Factory at 21 Cooper Street, in Glens Falls, New York.
From 10 a.m. to noon during the open house, Advokate plans a meet-and-greet with new part-time hires Cory Austin-Avon and Nina Marshall. Refreshments will be served.
Cory Austin-Avon of Glens Falls is Kate's husband, and is the newly-appointed Vice President of Advokate. He'll be helping with business decisions and taking over website maintenance and accounts payable and receivable.
Nina Marshall of South Glens Falls began as an Advokate intern, and is now Manager of The Advokate Boutique. She's an avid blogger and Instagrammer, and is a student of Arts Marketing at Empire State College on the SUNY Adirondack campus. She'll be handling social media for the shop, tracking sales, arranging displays and working with the artists to keep the inventory fresh, fun and seasonal.
"I finally realized that I couldn't do it all by myself any more," says Kate. "Advokate is booming and I needed some help. Nina's social media and shopping prowess means I don't have to worry about The Advokate Boutique, and Cory's reliability and thorough attention to detail means I can offload some of the behind-the-scenes of running a business and keep my focus on customer service, design and PR."