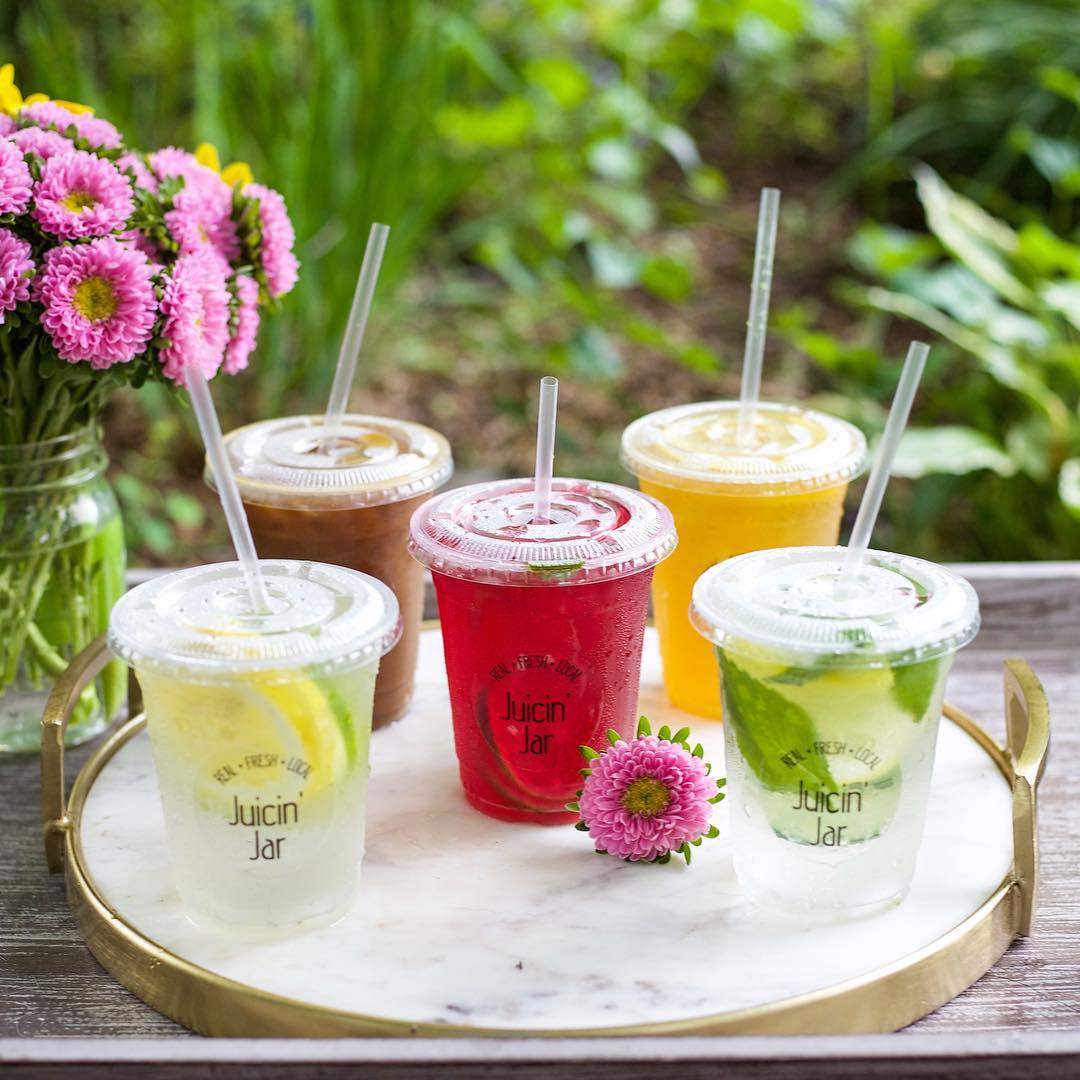 09 Oct

Meet our client: Juicin' Jar!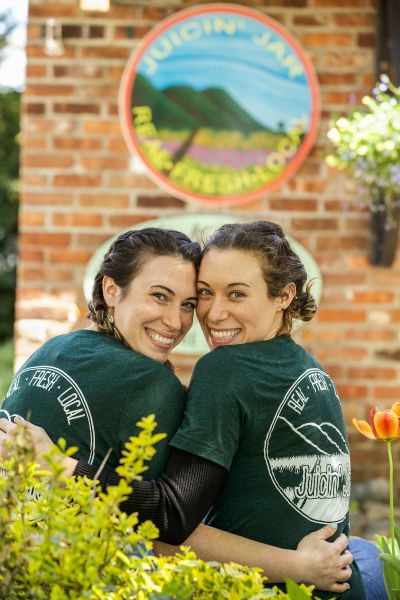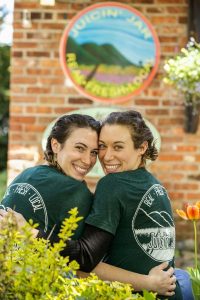 Juicin' Jar hits you with those good vibes as soon as you walk in the door of their 16 Exchange Street location, right in the same building as Advokate! The café is an eclectic, cozy mix of exposed brick, original artwork, and intimate seating. Their staff immediately greets you with warm, welcoming smiles and a genuine interest in your day.
Their mission is to serve a real product, to use all fresh ingredients, to support the local community and to provide our customers with a path to a healthier lifestyle.

We asked owner, Cristina Laubenheimer to provide us some insights, in her own words, into Juicin' Jar's origin, mission, and goals. 
What is the origin story of Juicin' Jar?
Juicin' Jar started in May 2014. At the time I was a student at Paul Smiths College studying hospitality restaurant tourism management. I'd always appreciated the restaurant industry but my main focus was hotel services. I loved customer service. In July 2013 my Dad passed away suddenly. And everything I was focusing on seemed to not matter. I had lost interest in school and myself and took time off work to focus on what I really wanted. I started becoming more active and focusing on eating healthy and making smoothies. I started getting really good at making smoothies and started writing down my recipes. Dan, my fiancé who was my boyfriend at the time, was really into MMA and Jiu-Jitsu and got us into juicing. One day I asked him to make me my favorite smoothie and he came back with the smoothie and idea that we start a juice bar…. 5 years later, here we are!!
What are some of your favorite menu items?
Everything we make is our own original recipe so to pick just a few is so hard because literally everything is my favorite. But if I have to choose the Buffalo Hummus Wrap and the Coffee Smoothie Deluxe are my favorite. Anything my sister bakes ecspecially the chocolate ganache doughnuts are my top favorite!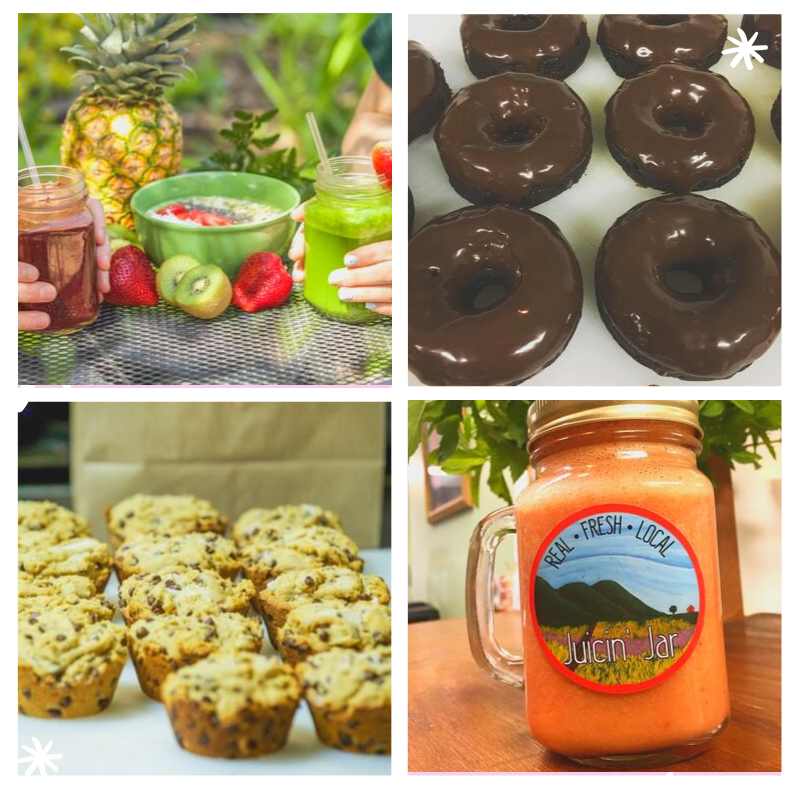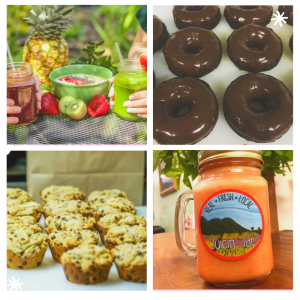 What have you learned from your time in business?
Wow, I have learned more than I could have ever imagined. Everything I have learned about my young adult life I have learned through Juicin' Jar. Starting the business young, I learned many things the hard way, but everything was worth it to see our doors still open five years later. When we first started, I remember saying, "if we can make it through year one," then, "if we can make it through relocating," and "if we can make it through this harsh winter," and "if we can make it to year five." We are going strong introducing more and more new things. We love what we do and we put everything we have into each smoothie and wrap that is made. Our customers are so great and we are so grateful every day to be able to be in our happy place!
Anything new you've added (catering menu, drinks, specials, decor, etc)?
Our newest venture is our Catering Menu and our Wholesale Baking Menu (designed by Advokate!). We have always wanted to remain fresh and plant-based. We are so happy to be able to introduce a catering menu that is 100% gluten, soy and dairy-free. Also, our baking is made fresh in house and everything is always gluten-free and vegan.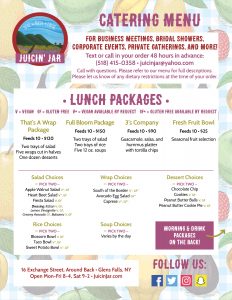 What is your favorite part about operating a business in Glens Falls?
My favorite part is the city. I absolutely love Glens Falls. It has a charm like no other place. It's unique and community-oriented and we have always felt at home here. Our customers are the most loyal people and have stayed true and supportive of us since day one. I love all the community events that are put on through the collaborative and love seeing customers become friends!
Any fun facts that people may not know about your business?
Originally my fiancé and I started the business in Lake George Village when we were 22! I left college to pursue my dream and we were just a little juice and smoothie shop and we were the only employees. Once we relocated to Glens Falls my sister Nicole joined us, and we started running the business together. She is the master baker behind all of our amazing gluten-free and vegan goodies. Juicin' Jar is a part of our family and holds many strong ties to my Dad who helped make it all possible. Every summer the "Princess Smoothie" returns which was my smoothie that started the whole business!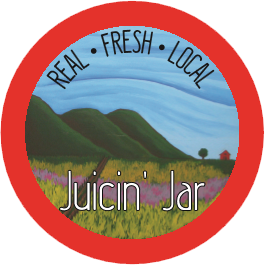 Juicin' Jar is located at the back entrance of Milk & Honey – Connected to the Elm Street Parking Lot
Mon-Fri: 8am-4pm
Sat: 9am- 2pm
Sun: Closed