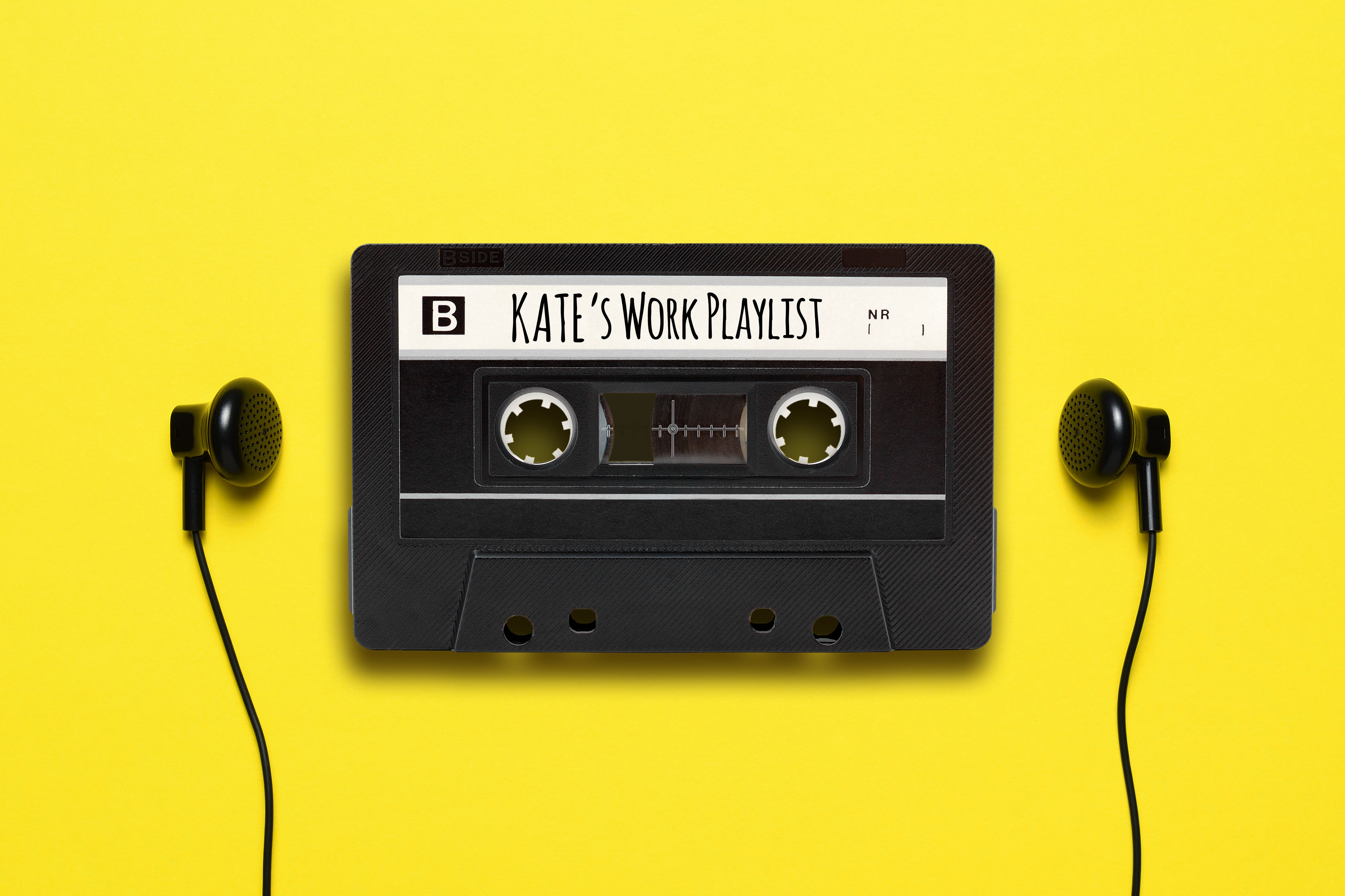 27 Aug

Kate's Taking Care of Business Playlist

Okay, so Caitlin and Cory both shared their work playlists and here I am (whatever, maybe I'm procrastinating just a little bit — we all need to take a break from time to time!) finally getting around to mine, months later.

Some days we sit and stare at our computers all day long while our eyeballs shrivel up and we hunch over more and more until by the end of the day our noses are literally touching the screen… and sometimes we have dance parties. Most of the time it's somewhere in between.

You'll note that Dolly Parton's 9 to 5 is not on my playlist, even though it's one of my absolute favorite songs. The reason it's not here is because it was a song for working for someone else — and believe me, I karaoke-d the hell out of that song when I left the life of working for other people. Similarly, I Will Survive was right up there on the leaving-my-job playlist. I'd change the words to, "I've got all my life to live, I've got all my work to give, I will survive…" And gosh, I love me some 16 Tons by Tennessee Ernie Ford. But these songs below are for Advokate. They're for the happy part of my life, for the here and now.

If you come by on a day when Caitlin's not in, you're more likely to catch me singing along with basically any 90's pop song ever. I try to contain myself when she's around, but my music-listening doesn't always stay out of my mouth.

Aside from the aforementioned job-quitting songs and the songs of my youth, here's what I've got to share with you:
KATE'S PLAYLIST
1. Bachman Turner Overdrive — Taking Care of Business
When I first started Advokate, nearly nine years ago, I would play this song during my billing on Fridays. Occasionally at the home office, if I was working on the weekend, I'd crack open a cold one and jam out with the windows open and the sunshine streaming in. To me, this song is my work anthem. It's my freedom song. Self-employment sounds like this, and it is glorious. If you ever get annoyed, look at me I'm self-employed…
2. Loverboy — Working For The Weekend
My dad owned his own business, too — KACS, Inc., a construction/contracting company in Killington, Vermont — for many years. Classic rock is what he listened to on the job, sweating and rocking out, sawdusty, in tie-dye. I used to help him, sometimes. It was what the workplace looked like to me. So rock & roll is also what makes me feel independent, hard-working, free, and accomplished. Here's another one of my working ON the weekend jams. Everybody's working for the weekend, Everybody wants a little romance…
3.  Ready for the World — Oh Sheila
When I moved out of the home office and opened my first office at The Shirt Factory, I got a water cooler. I named her Sheila. She was one of us. I felt like a real business! Oh, Sheila!!! My intern Hannah is the only one who could remember what her name was when I was compiling this list just now. Oh, oh, Sheila, let me love you till the morning comes…
4. Petula Clark — Downtown
This is the song for walking to work in my current office on Exchange Street. I love that I can live in a place where walking to work is an easy, pleasant experience. I have taught the "Downtown" echo to my three kids so I don't sound like as much of a lunatic when I sing it on the walk. My friends and I used to get together and sing a cappella songs, and Erin Coon sang lead on this tune. I first heard it in one of my favorite childhood movies, Short Circuit 2 (Yes, the second one was my favorite! It's what we had taped off the TV.). Don't hang around and let your problems surround you, there are movie shows… Downtown!
5. Iron and Wine — Cinder and Smoke
Once I had a massage to Iron and Wine music. It was the first time I ever heard it. And it makes me just so calm. Focused. Peaceful. Relaxed. Like I can just walk in a straight line instead of being in a tornado, which is how I spend most of my day. I just put on Iron and Wine Pandora when I need to buckle down and get something done and not feel panicked. It helps me to center myself and be singularly focused, best for design work. This isn't a song with lyrics that make me think anything about work, but it's just one I like. Cinder and smoke, Some whispers around the trees…
6. Jolie Holland — Damn Shame
Another calming artist is Jolie Holland. Jason Tavares introduced me to her. Literally! She came and performed a small concert in the Galleria Transylvania studio at The Shirt Factory. At the time I had never heard of her except to know that Jason loved her music. She is incredibly talented, and that concert was such a beautiful experience, that when I listen to her music, I'm in that calm, peaceful zone. As above, this isn't a song with lyrics relevant to work, but it's just one I like. When evening comes around
All my senses fly away…
7. Pac-Man Theme Remix
I have no idea how my kids got on a Pac-Man craze, but there it is. They listen to this thing on repeat, asking Alexa to play it over and over and over and OVER AND OVER AND OVER. This tune gets in your brain and doesn't leave. But it's kind of all right. The beat is good for when you're multi-tasking and you can just wiggle and break, wiggle and break. And it's WAY less annoying than Baby Shark. If I hear Baby Shark, my brain just stops everything it's doing and goes BABY SHARK DO DO DO DO DO DO… At least you can still think when this is playing. Your thinking just gets way more awesome.
8. Gloria Estefan — Conga
Have you heard of the Pomodoro Method? You work hard at a sprint for a set amount of time, then you take a break for a set amount of time, then sprint, then break, sprint, break, sprint, break, and so on. For a brilliant few weeks when I was using my standing desk and my posture brace and taking my vitamins and jogging twice a week and eating kale, I'd use tomato-timer.com and every 25 minutes I'd hit unpause on this song and we'd all stand up and shimmy and stretch for a few minutes. It seriously helped my back pain. We should get back to doing that. It was a good work practice. Come on, shake your body baby, do the conga, I know you can't control yourself any longer…
9. John Denver — Leaving on a Jet Plane 
I hope Ann gets a kick out of seeing this. Milk & Honey, the awesome shop downstairs from our office, has some tunes they play over and over. So they're, in a way, our work songs, too. There's instrumental versions of Leaving on a Jet Plane, Take Me Home Country Roads, When a Man Loves a Woman, and Celine Dion hits that we hear most every day. We like them, and sometimes we sing along. Hold me like you'll never let me go…
10. Night Ranger — Sister Christian
I have NO idea why this song has been in my head nonstop for weeks, but whenever I go to turn on music at the office lately, it's been this song. I don't know any of the words except for, MOTORING!!! That's the part that keeps popping into my head. I think it's because I feel like I'm really jamming and clicking at work, and that's when the switch flips on in my mind like a song clip at a hockey game after the score! — MOTORING! What's your price for flight, You've got him in your sight, And driving through the night
There are other songs I like, but those are the ones that are specific to work, and in an upbeat way, the Advokate way.
So I don't know about you, but I've gotta get back to work. So I'm just going to listen to Sister Christian over and over for the rest of the day now. Enjoy!
… MOTORING!!!