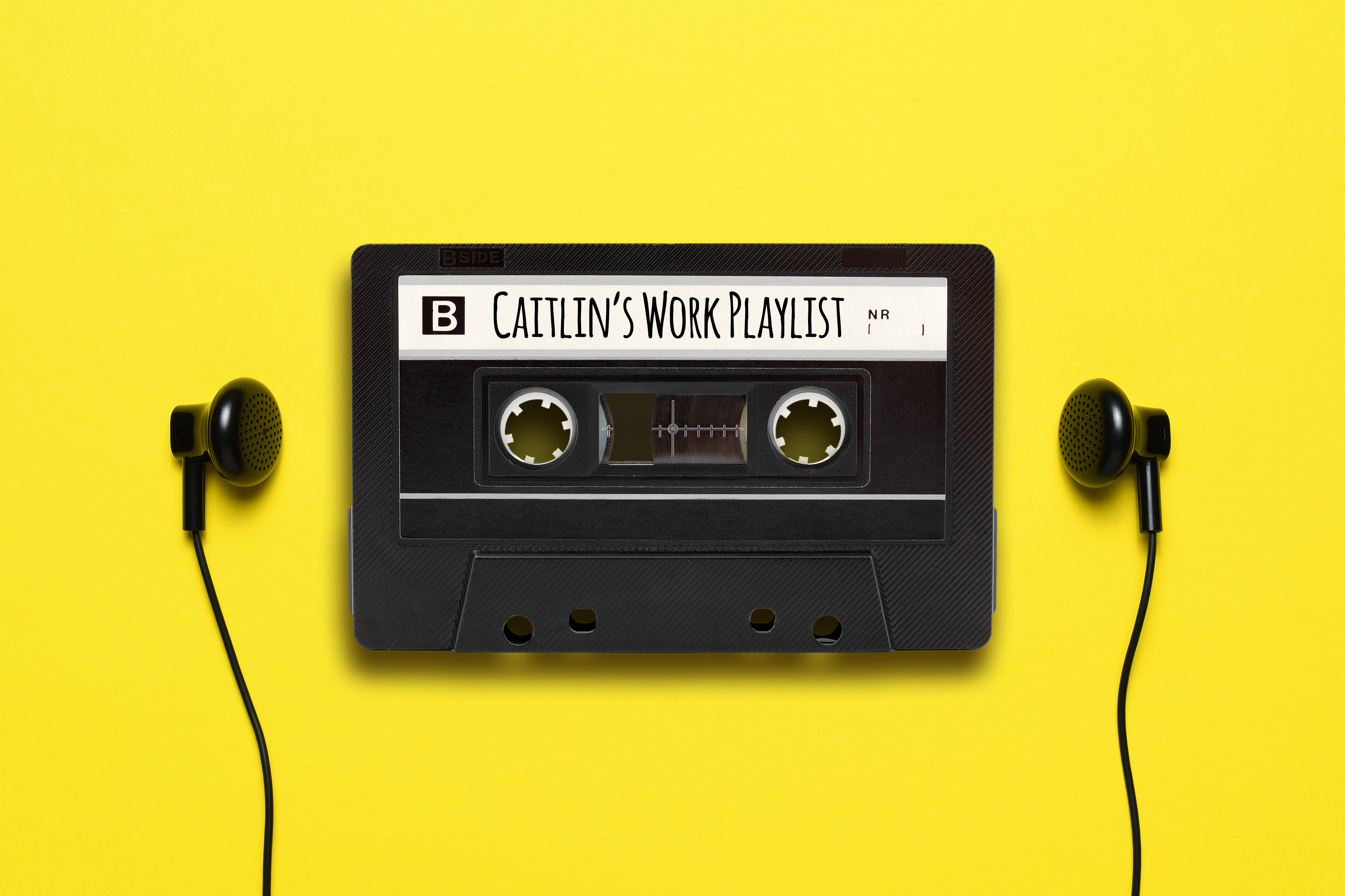 09 Apr

Caitlin's Workin' 10-5 Playlist!

Are you a little bit country or a little bit rock n roll?

Certain circumstances make us crave certain tunes. Crunching code with not a lot of time left before the deadline hits? You're probably going to want something with a fast tempo and a solid base line. If you're designing a logo for a yoga studio you'll probably want to tune into something tranquil, maybe even instrumental.

No matter what type of work day you're having we all have those songs that are like a shot of adrenaline to the brain.
Why do we work better with music?
In general, listening to music while working on repetitive tasks makes you perform faster and make fewer errors. Music you like triggers the release of neurotransmitters such as dopamine, serotonin and norepinephrine, which help you feel relaxed and happy. Being in a positive mindset allows you to focus better. Stress compromises your focus. "An improved mood from music also affects how you interact with your co-workers. If you feel better, you usually are more respectful, patient, and cooperative, which can lead to better teamwork" (www.inc.com)
My job at the Advokate office consists mostly of data entry, research, creating contracts and drafting proposals. I'm one of those people that thrives on ticking off checklists (think Monica Gellar meets Danny Tanner) so this is my happy place. Sometimes though the creative side of my mind can wander off into the clouds and I find myself staring off into space imagining I'm the next Spielberg. Music is imperative to keep me on task.
Caitlin's Playlist
1.) Kacey Musgraves "Biscuits"
Never get turfy and keep your eyes on your prize. "Comparison is the thief of joy" as they say.
2.) Kenny Rogers "The Gambler"
Don't edit your work to death. Always do your best but know when to say it's finished.
3.) Paul Simon "You Can Call Me Al"
Don't take yourself too seriously. Put on your suit coat and dance!
4.) Queen "Radio GaGa"
Nothing at work is the end of the world and tomorrow you get to start again.
5.) Ed Sheeran "Castle On The Hill" 
Remember how far you've come. and those who have your back. You got this!
6.) Lauren Daigle "You Say" 
Trust the process. Not everything is going to spark inspiration but relax and trust that your best self will rise to the occasion.
7.) Maren Morris "My Church"
Put a little of your soul into everything you create. Cultivate a work environment that reflects what you wish to achieve.
8.) Rachel Platten "Stand By You"
Lean on your co-workers. You're all in this together!
9.) Johnny Cash "Folsom Prison Blues"
Because we're all one bad Monday away from a life of crime.
10.) Dolly Parton "9 to 5"
Never be afraid to channel your inner Doralee. Always stand up for yourself!
Remember that music soothes the savage beast and sometimes that beast looks a lot like 2:00pm on a rainy Tuesday afternoon.
Put on your headphones and create your best work!
What songs are on your work playlist?