26 Feb

Queensbury crafter tries "Handmade at Amazon"
Upstate New York crafter Jeanne Nivard of Jeanne's Bags is one of the early adopters of Amazon.com's new venture, "Handmade at Amazon." This new online store, which has the internet buzzing about whether it's the nail in Etsy's coffin, launched in October 2015. Many Etsy sellers have become disenchanted with Etsy's recent welcome of manufactured items; a departure from the oasis of unique artisan-made items it once was. This created an opening in the crafting niche for Amazon.com/handmade. Jeanne's Bags' Handmade at Amazon shop is located at http://www.amazon.com/Jeannes-Bags/dp/B01B9Y9U1U.
Handmade at Amazon has strict policies to ensure items are handcrafted, and not factory-made or made from a kit. "Customers can discover artisans from around the world, and shop local from artisans based in their community with the familiar Amazon experience they know and trust," says an October 8, 2015, press release from Amazon.
"Knowing an item has a unique story behind it creates a personal experience that customers have told us makes owning handmade items special. Handmade at Amazon offers customers more than 80,000 quality handcrafted items from around the world," Amazon.com Vice President Peter Faricy is quoted as saying in the release.
"Kate Austin-Avon of Advokate, LLC told me about Handmade at Amazon," says Ms. Nivard. "And I thought I'd give it a try. It was incredibly difficult to set up, and their guidelines are very rigid with what products they allow, but I persevered and now my shop has been running since early February. Right now I'm selling my quilted coasters and trivets on Amazon, and I am hoping that they will soon develop a section where I can sell my signature quilted purses," she adds.
"First, you have to apply to Amazon and be accepted. They look at your website to determine whether it's a fit," says Ms. Nivard. "You have to set up your personal account info with your tax ID, shipping profile and tax profile, among other things. I had difficulties and finding a phone number was not easy, but I finally found out what was wrong. But when you are accepted, they send you five emails describing how to set up your shop."
"Compared to Etsy, it is much more complicated to set up a shop," she adds. "Amazon has a tax calculation function that is meant to help you, but they do not collect tax and remit to the proper place like Etsy does. You have to assign the proper tax code to your products and choose which states and countries in which you want tax collected, and all of this requires extensive reading of their Help section. The fees are substantial if you don't make enough sales; $40 per month, starting in August. I think they want to get a bunch of people to sign up with them. Then there is the 12 percent transaction fee, compared with Etsy's 3% or so. However, there is no listing fee, and no expiration where you have to re-list again. But you can't put any kind of tag or card in your products that do not mention your Amazon shop, which limits your exposure."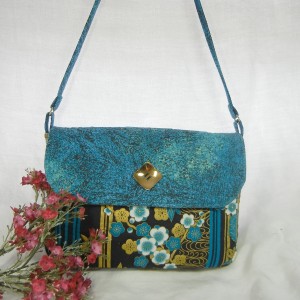 "Since Handmade at Amazon is still under development, not all categories are up and running. That means my main product, my purses, cannot be listed yet. I don't feel I will get a true idea of how my shop will do until that happens. It's not obvious how to access Handmade, rather than regular Amazon, either. If you just type in an inquiry in the search bar, you will get regular Amazon. You have to know to ask for Handmade, first."
Ms. Nivard has been selling online since 2009, with an Etsy shop (http://www.etsy.com/shop/quiltedpurses) and a website where shoppers can choose their own fabric and purse style and place an order with her. "You won't see your purse on somebody else when you're walking down the street," says Ms. Nivard. "Every purse I make is one-of-a-kind. It has its own personality, and my customers really like choosing a fabric that reflects their own unique tastes."
Jeanne's Bags is also available at local craft shows during the holiday season, as listed on her website (http://www.jeannesbags.com) and year-round at LARAC's Lapham Gallery Gift Shop and Moss and Friends in Glens Falls, New York, and at Starla's Gift Shoppe in Lake George, New York. She sells patterns for her purses online through QuiltWoman.com, PatternSpot.com and Craftsy.com and at Adirondack Quilts in South Glens Falls, New York.