02 Apr

Press Release: Four Play, The Musical kicks off its inaugural tour

GLENS FALLS, NY — Four Play: The Musical hits the Charles R. Wood Theater stage in Glens Falls, New York, with its world premier on Thursday, April 3, at 7 p.m. Shows continue on Friday and Saturday, April 4 and 5, at 7 p.m. and Sunday, April 6 at 2 p.m. Tickets are $30 and seats are going fast: Call the box office at (518) 874-0800 or order online at www.woodtheater.org.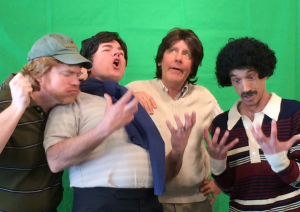 This laugh-yourself-silly, true-to-life musical about friendship, men's health and the issues they go through as they age is both relatable and hilarious. It's written by Queensbury, New York mortgage broker Rick Wilson and is produced as an Equity play with professional actors by Will Par Productions, the company Rick founded with his wife, Nancy.
"There's plenty to appeal to women – who, traditionally, are key to getting men to the doctor," Benita Zahn of WNYT NewsChannel 13 wrote online after a preview of the rehearsals. "But ultimately it's the guys, all agree, who are going to love this and bring their buddies."
"I went to the original staged reading of Four Play at the Hyde, really enjoyed and identified with it, give Rick Wilson tons of credit for creating it and hope he and the show hit the big-time," says Mark Frost, founder and Editor of the Chronicle newspaper.
Starring in the play are actors Bill Carmichael, Richard Koons, Chuck Muckle, Barry Pratt and Melissa Bayern. The show is directed by Avery Babson with musical direction by John Benware and Equity Stage Manager Sara Friedman. Actor bios, more detailed information and links to online box offices are on the website, www.fourplaythemusical.com.
Will Par Productions is offering refreshments during the intermission of the Glens Falls shows at no cost to audience members, and is instead collecting donations to give to the cancer screening services of Glens Falls Hospital.
The show's inaugural performance season continues April 11 to 13 with a dinner theater at the Clayton Opera House; May 2 and 3 at Lake Placid Center for the Arts; and May 23, 24, 30 and 31 at Siena College, Mr. Wilson's alma mater. Coincidentally, the final show on June 7 is during the college's 40th reunion, which is where the play itself also concludes.
# # #
Get your press release posted on this website! Contact Advokate to find out how.