07 Jan

Meet Our Client: Charles R. Wood Theater!

For all of us in the Glens Falls community, the Charles R. Wood Theater is a treasured venue. Within their doors is the perfect mix of hometown nostalgia and state of the art facilities.  We were thrilled to redesign their website which you can check out here: WoodTheater.org

We had the chance to ask Executive Director Emily Murphy some questions about this special theater.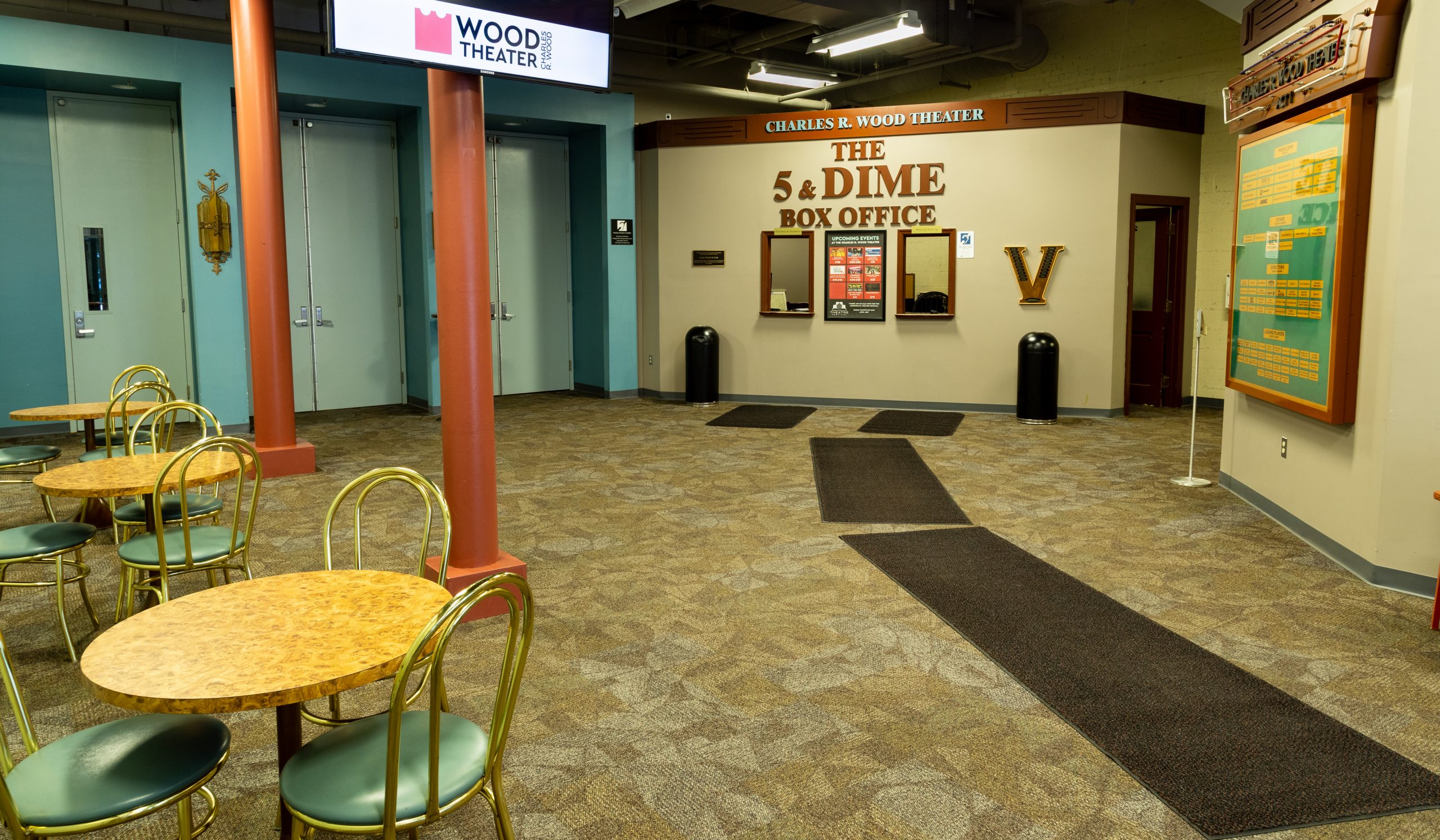 Tell us a little about the history of the Charles R. Wood Theater.
The Charles R. Wood Theater opened its doors back in June of 2004 after the former Woolworth's Department Store was renovated into a performing arts space. Starting with the Adirondack Theatre Festival  – who inhabited the space even before it was a functioning theater – the Wood became a venue to host local arts organizations' events. Theater groups, dance groups, and performers of all kinds now had a beautiful 294 seat space to perform for the community. Over the past 15 years, the theater has grown to be a multi-level community space with not just a stage, but spaces for events such as rehearsals, parties, meetings, and weddings along with a shop space for building and painting sets. What many don't know, is that 90% or more of what happens at the Wood Theater is rental based.
The mission of the Wood is to exist not as a producing house but as a rental facility for other organizations. So groups like the Theater Festival, Glens Falls Community Theatre, Reality Dance, etc. all rent our space to create. The Wood Theater doesn't get involved in the creative process, we're just here to provide them with a beautiful, state of the art facility and handle all the back end that comes with it. We operate the facility and the box office for them, handling the patron experience to allow them to focus on their art.
Please introduce yourself and tell us a bit about your job.
My name is Emily Murphy and I am Executive Director of the Wood Theater and have been since March of 2017.  Though we host 300+ events a year, there are only 3 full-time staff members here at the theater. Myself, Shelley Fairbanks (Box Office Manager) and Eric Potter (Facilities Director) share the duties, alongside our fantastic custodian Mark Ostrander who manages to keep our huge facility beautifully maintained. Shelley handles all things box office, a good chunk of our marketing and coordinates our volunteers, of which we have over 100. Eric is our technical expert who ensures that the facility and the equipment within it is running properly, and smoothly. What I do, is pretty much everything else! At the core, my job is to be the face of the theater.
I'm who people talk to when they have an event they're ready to present and need a space, or when they have an idea but have no idea what to do to bring it to the stage. A good majority of my job is working with our renters to execute contracts and schedule the year's programming. The other large part (aside from general management)  is fundraising and development for the organization. The Wood Theater is a non-profit, that prides itself in offering discounted rent to other nonprofits. However, rental fees alone don't cover the cost of operating the theater, meaning I have to go out and find the rest of the money. The great news is, the Wood Theater has countless supporters who every year contribute to the theater in some way or another. I coordinate our annual fundraising event, as well as any special fundraisers like our annual appeal at the end of the year. This year, we worked with local artist Anthony Richichi to create a comic about the Wood's history, and we've got a great response thus far (His work is the cover photo on this blog)!
Other than that, my job can mean covering the box office and selling tickets, selling popcorn in concessions, re-stocking toilet paper, running the light and soundboard for a comedy show, attending community events to market our events and pretty much everything in between – whatever it takes!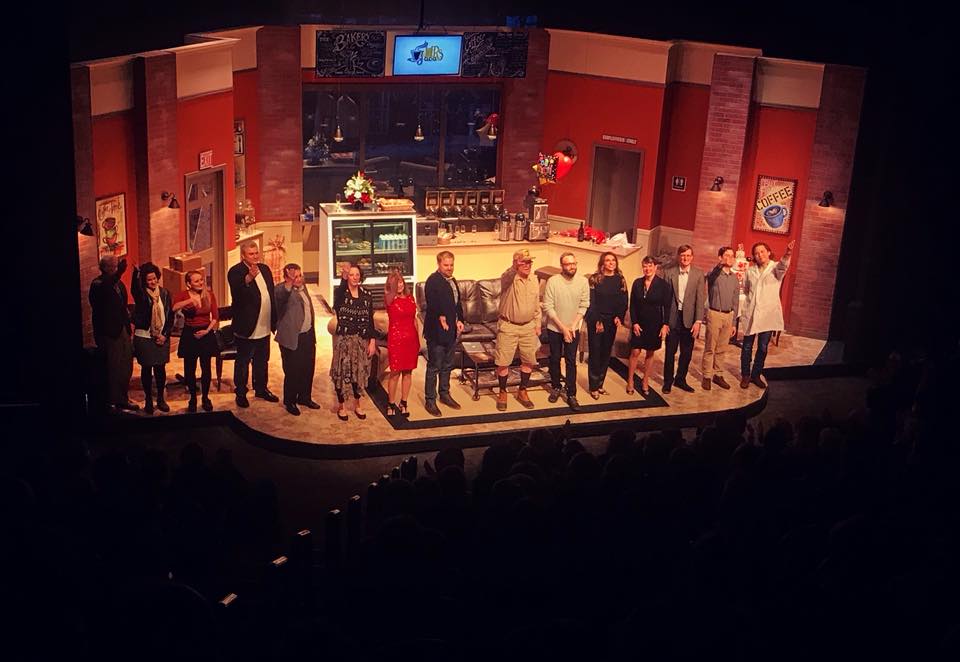 What are your favorite aspects of working at the theater?
What I love the most is being able to provide the community with a gorgeous space that is accessible. Being able to offer discounted rent to nonprofits means they're able to use a professional space without breaking the bank. AND, they're able to keep their ticket price reasonable, allowing more people to attend. Whether that translates to a student in a dance recital that getting the feeling of being on a professional stage, or a community theater actor that comes from their day job getting to pour their heart out to 300 people, or an audience member who comes to watch their kid in a Broadway Upstate musical getting to feel like they're on Broadway – it's incredible.
Though we sell about 30,000 tickets a year, there are hundreds of patrons who are "regulars" and we see at almost every show. Its been so fun getting to know these people over the past few years. It ranges from a student from our summer Theatre for Tots program that comes to all the musicals and runs up to hug me after the show, or a patron that stops to ask me how my dog is doing, or a mom of a student performer that comes to every single performance and feels like an old friend. The city of Glens Falls is a community like no other, and it seems like the heart of it can be found right in the lobby of the Wood Theater.
I also have to add, the Wood Theater has an incredible board of directors, directors emeritus and volunteers. In the years I've been here, our board has done everything from run the box office to allow us some time off, build a Cafe Du Monde replica for our New Orleans themed fundraiser, paint the lobby, sweep the sidewalk and countless other things far beyond the call of duty. They are a group of incredible community members who really love the theater and will do whatever it takes to see it succeed. Same goes for our volunteers. They do it all; ticket scanning, folding and handing out programs, will-call, ushering, greeting, selling concessions, bringing us candy or plants, all on their own free time. Aside from it being a wonderful service to offer our renters, our volunteers are simply fantastic people that we love spending time with. Hours of stuffing, sealing and labeling fundraiser appeals should be boring, right? Not with our volunteers! We always have a ton of laughs – and snacks.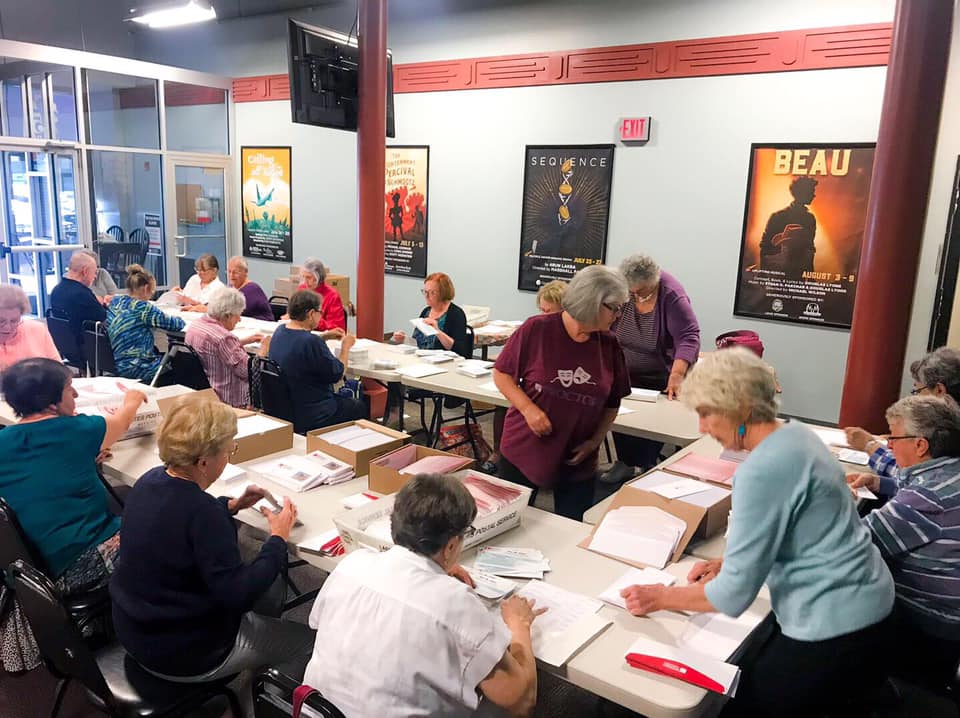 What you have learned from your time at the theater?
I've learned that to do this job, you have to love it. Maybe not always the job itself, but the theater and what it does. I can't imagine I'd still be here if I wasn't passionate about this place because it quite literally takes all that you have. It doesn't always mean getting to see all the theater I want and host fun events. It sometimes means scooping water out of the elevator shaft at 3am when the basement floods and a show is supposed to go up the next day. But, that sure did make a great story! As taxing as a job in the arts can be, it's always worth it. Once the show goes up and I stand out in the lobby saying "thank you for coming!" and see the smile on the audience faces or they thank ME, it all becomes worth it.
I've also learned all about the importance of a team. I mentioned Shelley and Eric earlier – and I cannot give them enough credit for all that they do. In passion jobs, as I mentioned before, its easy to let emotions run high and get in the way of the task at hand. But, here, we have a culture of teamwork, having each other's backs, and making sure everybody's ideas are heard. This sometimes means roles are blurred, but we all support each other, learn from each other, and really just have a whole lot of fun. On the surface, we're three very different people who come together as one team for the good of the Wood Theater.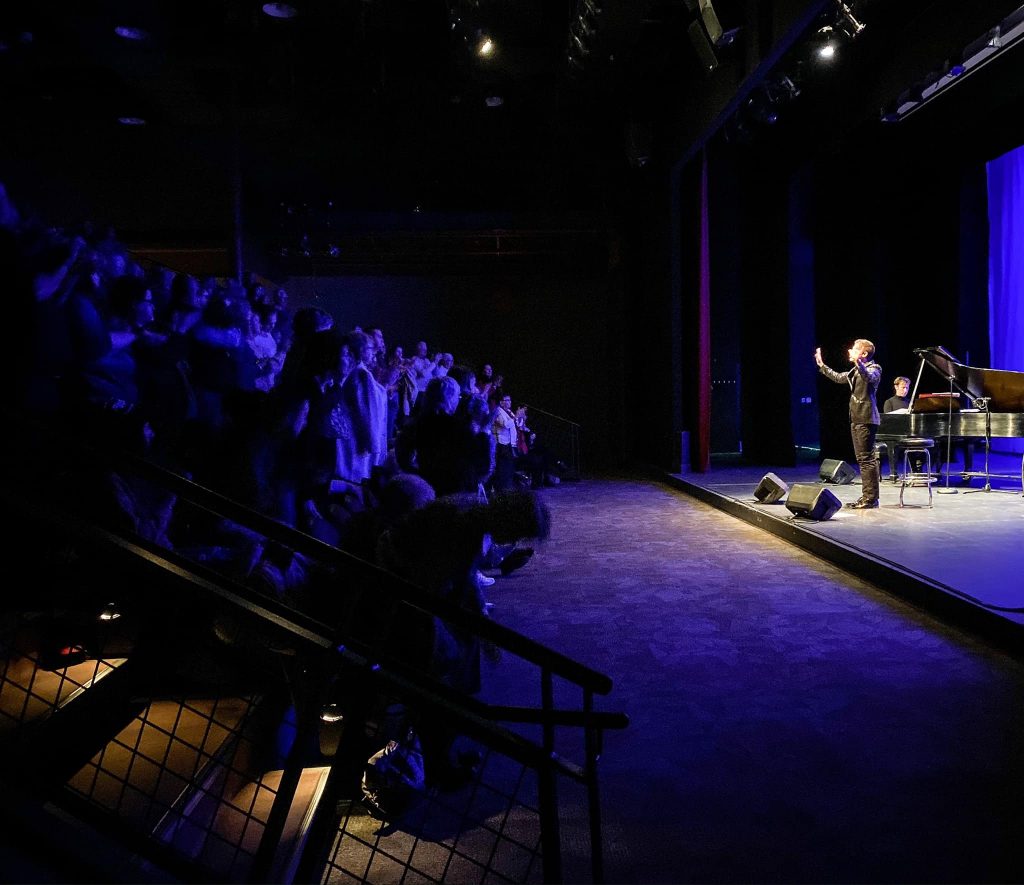 What's coming up you'd like us to know about?
I mentioned that we aren't a producing organization, but recently we've been dabbling with some projects in that realm.
In April, we're producing a brand new play with both celebrity and local ties. Robert Clohessy (Blue Bloods, Oz, The Avengers, Hill Street Blues) wrote a play titled Welcome Home, Johnny based on his own experience with his brother, John Clohessy's time in Vietnam. John is a Glens Falls resident who has taken the Wood stage many times with Glens Falls Community Theatre. Welcome Home, Johnny will premiere at the Wood April 9th-12th!
About the play: In the Castle Hill Projects of the Bronx, 1969, Robby anticipates his eldest brother Johnny's return from Vietnam. The story follows the Moran Family, led by tough as nails father and police officer, John. In Johnny's absence, the Morans do their best to continue life as they know it. Welcome Home, Johnny is an intimate look at life and family during an era of uncertainty and change.
This brand new play written and hosted by Robert Clohessy (Blue Bloods, Oz, The Avengers, Hill Street Blues) will have its World Premiere in April at the Charles R. Wood Theater. All proceeds from this production will serve as a fundraiser for the Wood Theater and its mission. 
Speaking of world premiers, we'll be hosting a screening of the film Charles Evans Hughes & The Adirondacks by Maury Thompson and Advokate's own Caitlin Stedman in September! We're really excited about that one and our minds are racing about ways to make it a real community event. That'll take place on September 27th, 2020.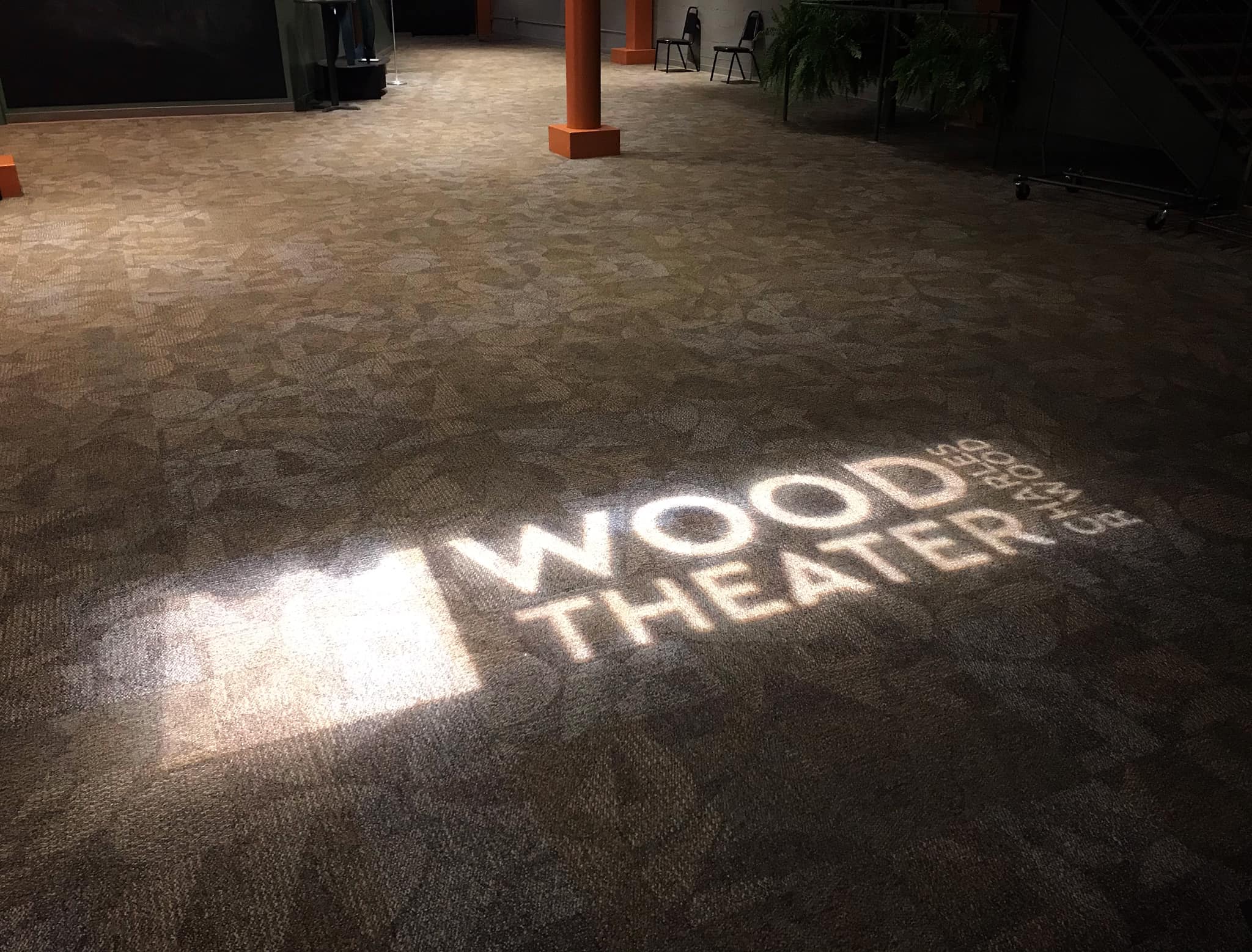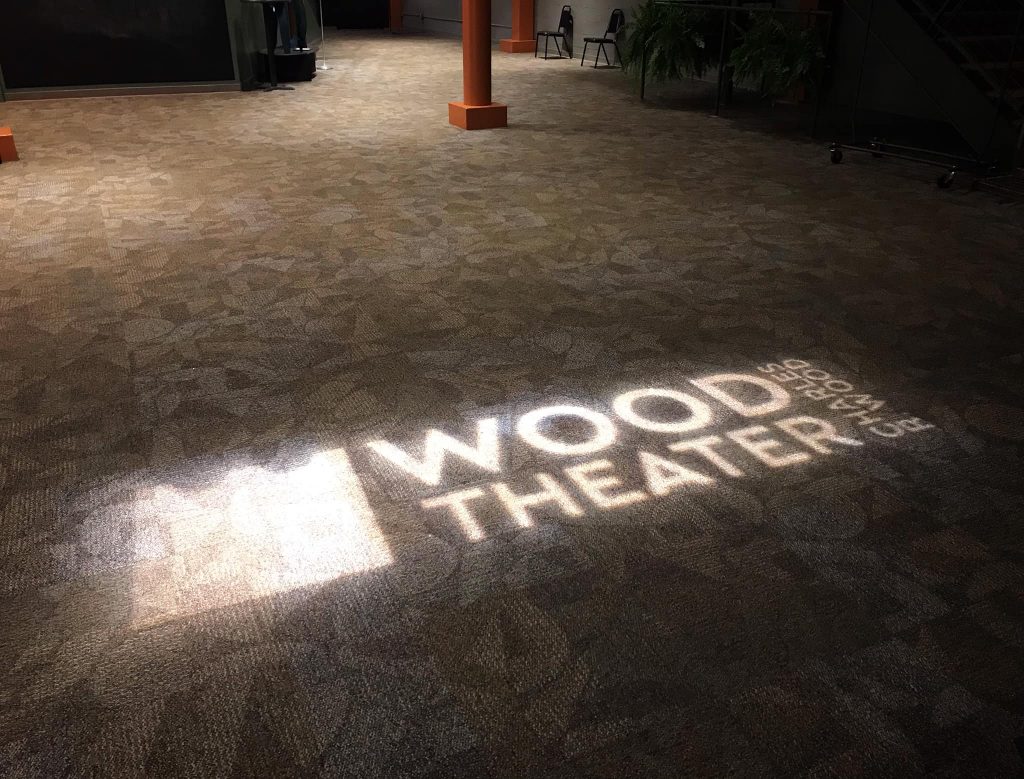 Donate: https://ci.ovationtix.com/35085/store/donations/28899
Volunteer: https://woodtheater.org/volunteer/
Events: https://woodtheater.org/events/
207 Glen Street, Glens Falls, NY 12801
Email: boxoffice@woodtheater.org
Box Office: 518-480-4878
Phone: 518-798-9663