27 Oct

How to design a website with Advokate

How does one go about designing a website?

Every company has their own system for web design, but here's how Advokate works it:

All Advokate websites are designed in WordPress, a Content Management System (CMS) that allows me to turn the keys over to you so you can make your own simple updates, if you're a person who's comfortable with computers and the internet. I think it's important for my clients to have access to their websites in order to save money and for the sake of convenience. Of course, I am always happy to make updates for you as well!

Here are the steps to my process: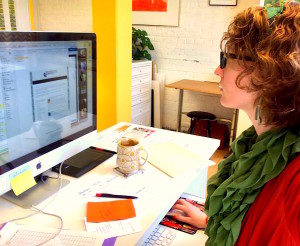 1. Meeting. We meet and have an hour-long conversation about your business, what your goals are, what branding you already have (logo, colors, fonts, and so on) and what you'd like your website to look like. I'll make some sketches and ask you about your budget for this project. This meeting costs $25 because even if we don't end up signing a web design contract together, you will walk away with a clearer plan of attack for your marketing than you had before. The meeting can be at your place of business, out at Rock Hill Bakehouse Cafe over coffee or lunch, or at the Advokate office.
2. Proposal. I'll write up a confidential, customized proposal and contract and email it to you. The detailed proposal will outline your entire website as we've discussed it, along with the steps we'll need to take. It will also list some other options for you as well, like eCommerce, rack card design, SSL certificates, maintenance plans and more. We can email or talk over the phone about the proposal and contract if anything doesn't look exactly right with the plan.
3. Signing. You sign the contract, initial the proposal and pay the first deposit.
4. Gathering. I'll email you a list of things I need: Photos, text for the different pages, your logo, video, contact info, your preferred email address (which I can set up for you if you'd like you@yourdomainname.com) and other information. You can email me that info, or drop off a USB or CD, or send it via Google Drive or DropBox.
5. Building. I'll assemble the pieces into a design that reflects you and your business exactly as we discussed, and just as I outlined in the proposal. I follow the proposal closely and review my notes from our first meeting when I'm designing. I design the website live, but privately in a password-protected environment, so that nobody can see it until it's ready to launch.
6. Revisions. When I've got it ready to show you, I'll email you login information so you can view your website while it's still private from the public view. At this time, a second deposit is due. You take a look around and let me know if you have any revisions to make. I'll get them done. I typically include two rounds of revisions in my proposals, but more are available at my hourly rate.
7. Launch! When the revisions are finished, we go live! I add Google Analytics so you can view information on the traffic to your website, and submit the website to search engines. The balance is due now.
8. Training. We follow up with an hour-long training in WordPress and Google Analytics so you can keep an eye on things and make your own updates.
That's it! I do recommend maintenance quarterly, or as often as monthly if it's within your budget, but I leave it up to the client about how frequently they hire me to go in and do backups and updates to the infrastructure.
Here are some websites that Advokate has designed recently:
Are you ready to schedule your Step 1 meeting to discuss the website of your dreams now?