17 Jul

Help us win $500 million for the Capital District Creative Economy!

The eight-county Capital District is in competition with six other regions in New York State for $500 million in economic development investments from the State. The Regional Alliance for a Creative Economy (RACE) has hired 12 Creative Advocates to facilitate the collection of big-picture ideas to be rolled up into the proposal to represent the entire region. The details will be collected and masterminded into a grand plan by RACE and presented to the Capital Regional Economic Development Council (CREDC) for potential inclusion in the URI (Upstate Revitlilization Initiative) application.

Christine Hoffer, Washington County Tourism Administrator, and Kate Austin-Avon of Advokate, a web and graphic design/marketing/PR firm in Glens Falls, are the Creative Advocates representing Washington and Warren Counties, respectively.

Together they plan a series of focus groups to generate these big-picture ideas. The public is invited to attend and help to generate visionary ideas about leveraging our region's creative economy to promote economic growth.
Please join us at one or more of these Events:
Tuesday, July 21
10 a.m. to noon
Fort Salem Theater
11 East Broadway, Salem, New York
Thursday, July 30
10 a.m. to noon
VARAK Park
15 West Main Street, Cambridge, New York
Friday, July 31
2 to 4 p.m.
Crandall Public Library's Christine McDonald Community Room
251 Glen Street, Glens Falls, New York
Monday, August 3
9:30 to 11:30 a.m.
Crandall Public Library's Christine McDonald Community Room
251 Glen Street, Glens Falls, New York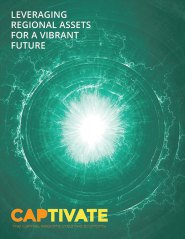 RSVP is not required, but preferred
The ideas generated during these meetings will be passed up to RACE to roll it together with the other Creative Advocates' collected concepts, work out the fine details and submit the grant proposal to the Governor.
The findings of RACE's November 2014 study, Leveraging Regional Assets for a Vibrant Future, will serve as the basis for evaluation of these concepts. Christine and Kate encourage folks to read it through prior to the meetings, especially pages 14 to 17 with "Challenges to Address" and "Recommendations". Find it online here.
"The types of ideas/projects that will be most useful for the URI process should be projects that have the potential to provide authentic, culturally-relevant, long-term economic benefits — not just to one organization or individual, but to an entire community," says RACE.
"We are especially interested in hearing from those who are involved in the Creative Economy," add Christine and Kate. "That means folks in design, media, visual arts and handcrafted products, performing arts and heritage preservation, as well as politicians, community members, business leaders and arts organizations."
If you are not able to participate in person, please submit your idea online ASAP here.
Additional Resources: