17 Jan

An Iconic Structure with Loads of Character

We've recently been working on a project for Downtown Glens Falls' Colvin Building. The post below was written by our copy writer, Jessica Chanese.

I'm not a native of Glens Falls, or of any of its neighboring towns for that matter. I grew up on the other side of Saratoga Springs, in a small town as far to the south in Saratoga County as South Glens Falls is to its north. I can admit, with some well-deserved embarrassment, that I only learned South Glens Falls and Glens Falls were separate municipalities when I began working in Moreau about a decade ago. That was also the point in my life when I was introduced to many of the greater Glens Falls area's attributes, Glens Falls' downtown being at the top of the list.
Sidewalks weren't a thing in my original corner of suburbia, and I still to this day stress when crossing streets at intersections with pretty much any traffic volume. But, it's well worth literally stepping outside my comfort zone to be able to explore on foot the stores, cultural venues, and eateries of Glens Falls. I can't say enough how much I love the abundance of unique and independent businesses lining the streets of downtown. Every town and city needs more of the entrepreneurial spirit and sense of community that thrives in Glens Falls.
While there is a ton of eye-catching architecture and structural nods to eras long past all over downtown, The Colvin Building is one of my favorites. From the charm of the windows on its storefront, now always artfully decked out with fun fashions from Finders Keepers, to the staircase with its dark wood banisters wrapping around and around to each of the building's five floors, or its big, light-filled spaces and hardwoods as displayed in YogaKayla's studio, there's just something about that building that draws me to it.
So I was excited when Kate asked me to write about the Colvin Building, incorporating its history and highlighting some of the diverse and innovative businesses that call the building home. I knew nothing about Addison Beecher Colvin before this endeavor. I didn't know anything about the adversity he overcame in his childhood, or the businesses and new technology he championed in the region, such as the first electric streetcar company and installation of a telephone system. I had no idea that, at only 21 years old, A.B Colvin founded The Glens Falls Daily Times, the first daily newspaper established north of Troy. And I didn't know that he constructed the Colvin Building as we know it today in 1903, on the site of his birthplace, after the original building was destroyed in the last of Glens Falls major fires in 1902.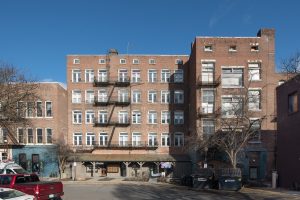 What I did know about the Colvin Building was that it was an iconic structure with loads of character that houses some pretty cool businesses that are integral to the fabric of downtown Glens Falls. Learning about the building's history as well as its founder's fascinating life story only enhances The Colvin Building's allure. It's really a perfect representation of the blending of past and future, of legacy and progress, that fuels the heartbeat of Glens Falls. Those of us that get to live and work here should count ourselves lucky to be part of a community with strong roots and burgeoning growth. Places like the Colvin Building are rare, and communities with the collective spirit and dedication to local development seen here in Glens Falls are even more so. Glens Falls is a little city with a big soul, and I for one am glad to have.found my way to this side of exit 15.
Glens Falls is bursting with architectural marvels from eras gone by. Strolling the downtown streets you're surrounded giants that are an almost equal blend of historic and contemporary. Arguably, the most unique of these structures resides at 206 Glen Street, The Colvin Building. Recently, I was granted access to photograph the interior for an Advokate designed web page and listings. What struck me most wasn't the bones of the structure but the small elements that are easy to pass by.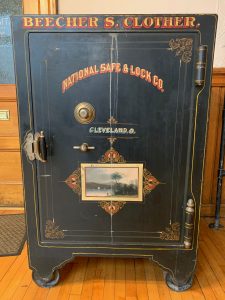 Ascending floor-by-floor you pass by old steamer trunks, giant bank vaults, floral rugs and faded ornate wallpaper. It's as if a high society couple vanished and left the contents of their Victorian home behind. I wonder if anyone in the community knows who these items belonged to or how they ended up decorating The Colvin Building hallways. Some of items, especially the bank vaults look like they have interesting, and possibly daring, stories to tell. As I made my way through the building I resisted the urge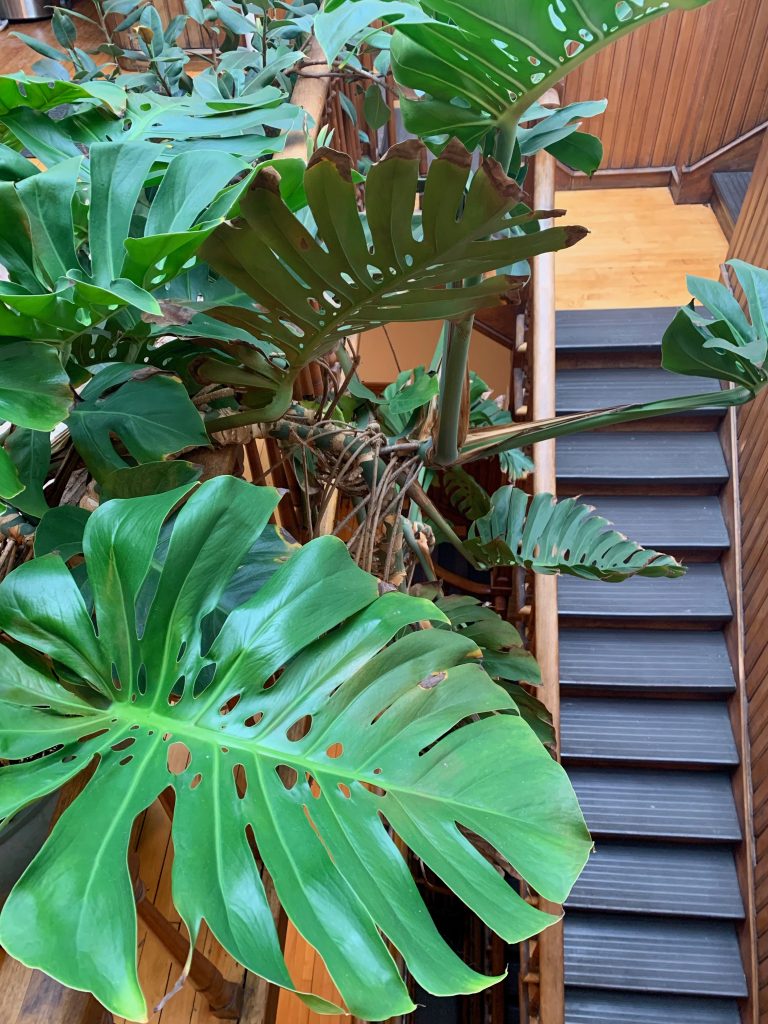 to open up all vaults and trunks.
Ascending the creaky, intimidatingly lengthy, staircase was all worth it. The top floor, my personal favorite, is brimming with greenery. The flora ranges in size from medium-size potted plants to tall, tree-like structures. The skylight diffuses the sunshine giving the space a welcoming greenhouse feel, even on a cold and blustery day. The leafy greens pop against the dark wood finishing of the side tables and wall panelling. Throughout the building you discover multiple fascinating juxtapositions. The rare combination of colors, textures, light and shadows make The Colvin Building stand out for all the right reasons.
The shared spaces are so quiet that you forget the variety of business being done, deals being made and classes being held behind all the closed doors. Photographing the interior of the building, I felt like an explorer stumbling upon relics of yesteryear while civilians pass by unaware of the value surrounding them. It is my hope that while the occupants continue to excel in the modern era that the building itself has aspects that forever remain frozen in time.