07 Jun

Vermont's Front Porch Forum is coming to Upstate NY

I just got off the phone with Jason Van Driesche, who has been Chief Innovation Officer at Vermont's Front Porch Forum for about a year (and a user of the forum for about ten years, he says). He had emailed me saying that several people of note had identified me as a person worth talking to about the fact that Front Porch Forum is expanding into Warren and Washington Counties here in Upstate New York.

Now, I've known about FPF for a while now. My family is from Vermont and references it occasionally. The concept is that it's a local online forum that can be used to bring the community together in a number of ways, from expressing concerns to sharing free items to asking for recommendations to looking for missing dogs. Their website says, "Front Porch Forum is a free community-building service in Vermont. Your neighborhood's forum is only open to the people who live there. It's all about helping neighbors connect."

A new, independent documentary is being screened on the role that FPF has played in bringing Vermont communities closer together. Here is the trailer:

I know what you're thinking — 'round these parts, we have Facebook for that. We use Queensbury Online Garage Sale, You Know You're From Glens Falls When, and Glens Falls Collaborative's Facebook groups. I mentioned this observation to Mr. Van Driesche, who pointed out to me that this is actually with an even more hyper-local focus. I signed up and saw that it's just Glens Falls' Ward 2 that would be my particular forum. So I'd be talking only with my actual neighbors, not people from out of town who used to live here, or folks over in Queensbury. And FPF emails out a digest every day at 5 p.m. that he says gets a very strong readership.

Lynn Espey, Front Porch Forum's Marketing Manager adds, "You may want to also note that we have real people, Online Community Managers (our team of moderators) who review every post before the daily digest is sent out to members.  While they never edit posts, they do help to keep the tone civil and ensure that FPF's terms of use are being followed."

It's funny timing; I literally JUST made a Facebook group for my street, only about a week or so ago. So I clearly see that there's a need to connect more within our neighborhoods, and the internet is a handy tool for that, since we're all on different schedules and aren't necessarily wandering door-to-door at the same time.

I've signed up, and the service is locked until 50 other users in my ward sign up.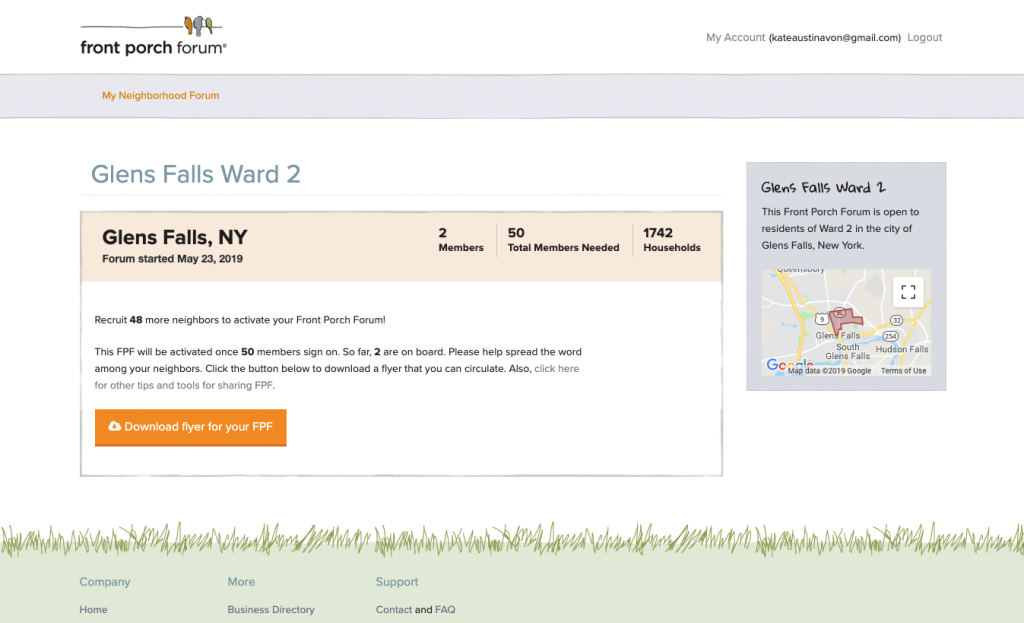 "If you want to get it going in your ward, we can make you a flyer and you can tuck it in your neighbors' doors, that'll really rocket the thing ahead," says Mr. Van Driesche. Here's the printable flyer that popped up when I clicked the orange button above: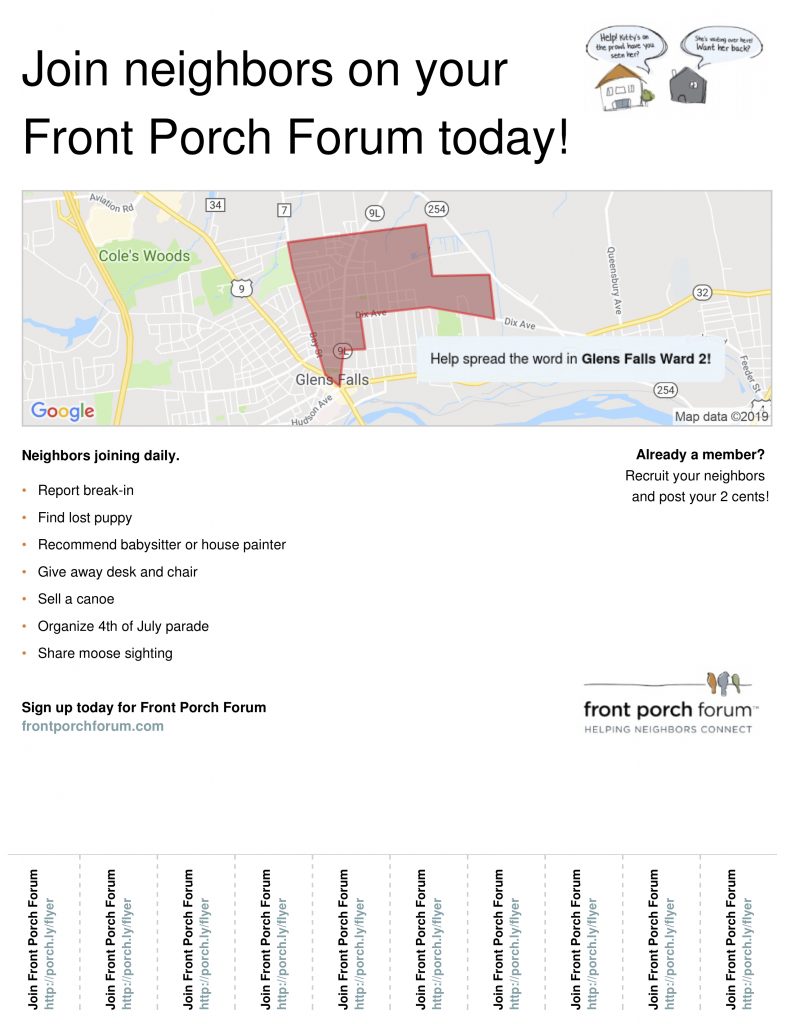 This has relevance to our business community. Front Porch Forum is completely free for users, so its business model is advertising-based. Businesses can also post for free, but they have a posting limit. For $9 per month they can increase the limit, and there are also advertising opportunities starting at $10 to $15 CPM. An app is in the process of being developed.
They do offer sponsorships to things like fun runs, arts festivals, etc., said Mr. Van Driesche. And they use native advertising, so the ads blend in with the other posts, which is effective for advertisers. The ads are really for local businesses, he says, so it's not like they stand out as a Pepsi or McDonald's ad would — it's for local events, local shops having a sale, that kind of thing, which is at home with the other posts.
Already in New York state, "Greenwich has really come on board," says Mr. Van Driesche. "Cambridge and Argyle, too."
He will be coming to Glens Falls on Wednesday, June 19, to meet with Mayor Hall, and other folks who are interested in meeting him can be in touch with jason@frontporchforum.com.