26 Feb

Press Release: NCAC closes 'Winter Inspirations' show in Chestertown

CHESTERTOWN, NY — North Country Arts Center closes its show "Winter Inspirations," its first Art in Chestertown exhibit of 2014, with a reception on Saturday, March 1, from 2 to 4 p.m. The Art in Chestertown Gallery is located at 6378 State Route 9 in Chestertown, New York.
The gallery is open Saturdays and Sundays from 11 a.m. to 5 p.m. This show features paintings, sculpture, drawings, photography, woodworking, jewelry, books, fiber art, cards, scarves and other unique one-of-a-kind gifts handcrafted by North Country artists and artisans.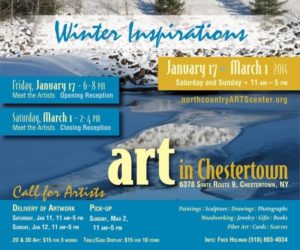 North Country Arts Center first opened the Art in Chestertown Gallery on July 15, 2010 fo
r what was meant to be only a six-week exhibit of local artists' work. At its start, 25 artists were showing 5 pieces each. By the end of the exhibit, there were 43 different artists exhibiting! The success of the first show inspired NCAC to continue with two additional exhibits extending the season to January 2011.
In 2012, the gallery opened in June for a second season with its first annual Student Juried Exhibit, attracting six area schools. Since then, the gallery has remained open continuously with a total of seven exhibits. During its run, the gallery has shown works by more than one hundred local and regional artists, and continues to provide a location for local artists to showcase their work.
North Country Arts Center is a non-profit cultural organization dedicated to encouraging and assisting emerging artists and artisans in the southeastern Adirondack region.
More info is available at NCAC's website, www.northcountryartscenter.org, or call Fred Holman: (518) 803-4034.
# # #
Get your press release posted on this website! Contact Advokate to find out how.