17 Apr

Meet our Client! Comedian Aaron David Ward
We thought it would be a nice idea to feature some of our clients on our blog from time to time. And we also thought there's no better way to start than with one of our longest standing clients!
We first got to know Comedian Aaron David Ward when he would come to the Rock Hill Bakehouse Cafe Open Mic nights. Cory was the host at the time. We always enjoyed hearing Aaron's new material and spending some time with him. Aaron works as an independent comic as well as the producer of The Not Too Far From Home Comedy Tour. He produces the tour through his Award Comedy Productions, LLC company.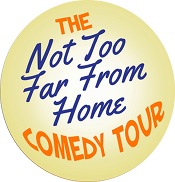 Both of those websites are Advokate-designed sites. We also produce his promotional materials for the comedy tour.
We asked him some questions about his business and here's what he shared with us!
 1. In your words: What is your business and what is it that you offer?
Award Comedy Productions, LLC produces The Not Too Far From Home Comedy Tour which stars a rotating roster of seasoned, working professional stand up comedians from throughout the Northeast including me. The tour entertains audiences at American Legion Posts, banquet halls, comedy clubs, country clubs, Elks Lodges, golf clubs, hotels, restaurants, theaters, VFW Posts and other similar venues. In addition to the talent, Award Comedy Productions, LLC provides professionally-designed promotional flyers, tickets, news releases, online promotional help, and a professional sound system and spotlight for the performances. When people see a show by The Not Too Far From Home Comedy Tour, they can rest assured they are going to see a top quality production that includes seasoned, working, professional stand up comedians who deliver tons of laughs at each and every performance.
2. How long have you been in business? How did it start for you?
I began performing stand up comedy professionally in June 2002 and producing shows in 2007. I lost a job in May 2002 and that career-altering experience prompted me to start performing stand up comedy.
3. Can you talk about your joke writing process?
Personal and topical events prompt jokes. I write daily to keep my act fresh and my mind working comedically.
4. What inspires you?
Comedy legends, Bill Burr, George Carlin, Billy Crystal, Brian Regan, Robin Williams are among my inspirations in stand up.
5. Where can folks learn more about your shows?
My website aarondavidward.com and the tour website thenottoofarfromhomecomedytour.com, both designed by Advokate, will provide more information.
6. What are your biggest challenges?
The goal is to grow Award Comedy Productions, LLC into a larger production company, but that takes more financial resources and time, so that is the biggest challenge to overcome.
7. Who are some of the comedians you enjoy collaborating with, or whose work you love?
The comedians I work with are among those I admire and enjoy. The roster appears at thenottoofarfromhomecomedytour.com.
8. How is business different today than it was when you first started?
In order to have a career in professional stand up comedy, you must produce top quality performances. Relying on agents or managers is 20th century thinking. The 21st century entertainment industry belongs to the performers who create their own opportunities.
9. What tips do you have for other professional performers?
Make sure you adapt, learn, and focus on both your art and your business. It is called show business for a reason. To have a long and fruitful career, you must focus on both components.
10. How has Advokate helped along the way?
Advokate is a key partner in the success of The Not Too Far From Home Comedy Tour. Advokate helped me execute my vision for The Not Too Far From Home Comedy Tour. It provides the professionally-designed promotional flyers, tickets, and online presence I need to keep growing my business. I am grateful for Advokate's advice, assistance, and expertise. I recommend Advokate to other creative types and entrepreneurs looking to advertise, grow their brands, and market their products and services.